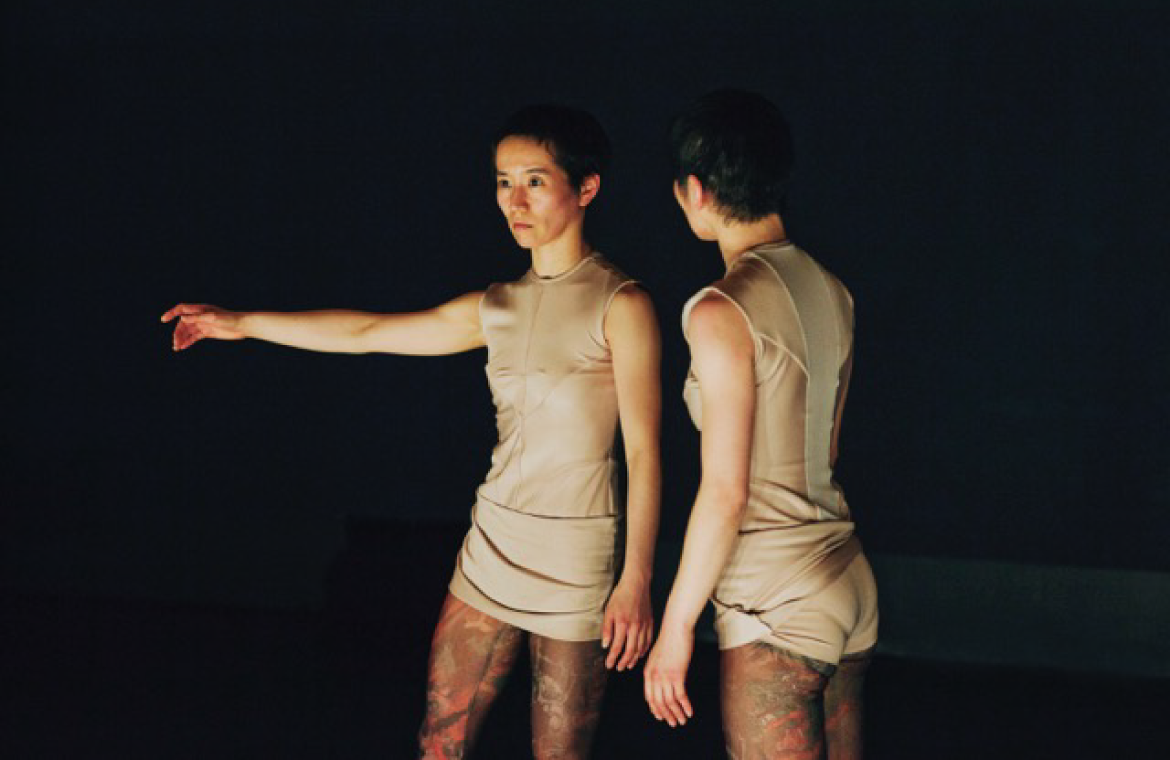 ZERO ONE
Yasuko Yokoshi [New York / Kyoto]
2.18 Sat

20:30

2.19 Sun

13:30/19:00

上演時間

Run Time

60 min

*未就学児童入場不可。

*Preschool children are not admitted.
Professional

¥1,000

Audience

¥2,500
Japanese (subtitled in English)
A piece that presents the performance of twin dancers Manami and Sawami Fukuoka, one based in Osaka and the other Amsterdam, and a film by the choreographer herself Hangman Takuzo. Twin dancers who have obtained totally different physicalities through working on different dance languages with different backgrounds, and an actionist Takuzo Kubikukuri who questions life by hanging himself regularly — resemblance and difference, self and the other, existence and nonexistence reveal the suspended time and space between ZERO and ONE.
TPAM Direction Directors' Talk: Fumi Yokobori × Yumina Kato
2.18 Sat 19:15
2.19 Sun 12:15/17:45
KAAT Kanagawa Arts Theatre 5F Main Lobby
Admission free
Related screening: Hangman Takuzo (2010, 45 min, subtitled in English, featuring Takuzo Kubikukuri, Mika Kurosawa and Namiko Kawamura)
Choreography, direction and film: Yasuko Yokoshi
Performers: Manami Fukuoka, Sawami Fukuoka
Appearance in film: Takuzo Kubikukuri, Mika Kurosawa, Namiko Kawamura (from Hangman Takuzo directed by Yasuko Yokoshi)
Costumes: Akiko Iwasaki
Video consultant: Toshiko Takashi
Lighting: Masakazu Ito (RYU)
Sound: Shinya Kaneko
Technical Director: Ichiro Awazu
Management: Yoko Kawasaki
Commissioned by NPO Japan Contemporary Dance Network "We're Gonna Go Dancing!!" II vol.4 / Kyoto Art Center Artists in Studios program
Organized by Performing Arts Meeting in Yokohama 2017 Executive Committee and Yasuko Yokoshi
Supported by The Saison Foundation
Artist in Residency procided by Kinosaki International Arts Center (Toyooka City)
The creation of ZERO ONE was made possible, in part, by the Danspace Project 2015-16 Commissioning Initiative, with support from the Andrew W. Mellon Foundation. The project's creation has been supported by The MAP Fund, a program of Creative Capital, primarily supported by the Doris Duke Charitable Foundation, with additional funds from the Andrew W. Mellon Foundation. The creation residency support of ZERO ONE was provided by The Maggie Allesee National Center for Choreography (MANCC) at Florida State University (FSU).


Yasuko Yokoshi
Choreographer currently based in Kyoto. Working in New York since 1996, her first creation in Japan ZERO ONE (JCDN "We're Gonna Go Dancing!!" II vol.4) was presented in "BIRD" Theatre Festival TOTTORI 7 next year after going through a re-creation process. The English version of the piece was presented at Danspace Project in New York in September 2015, which was selected as one of the best dance pieces in the year by New York Times critics.