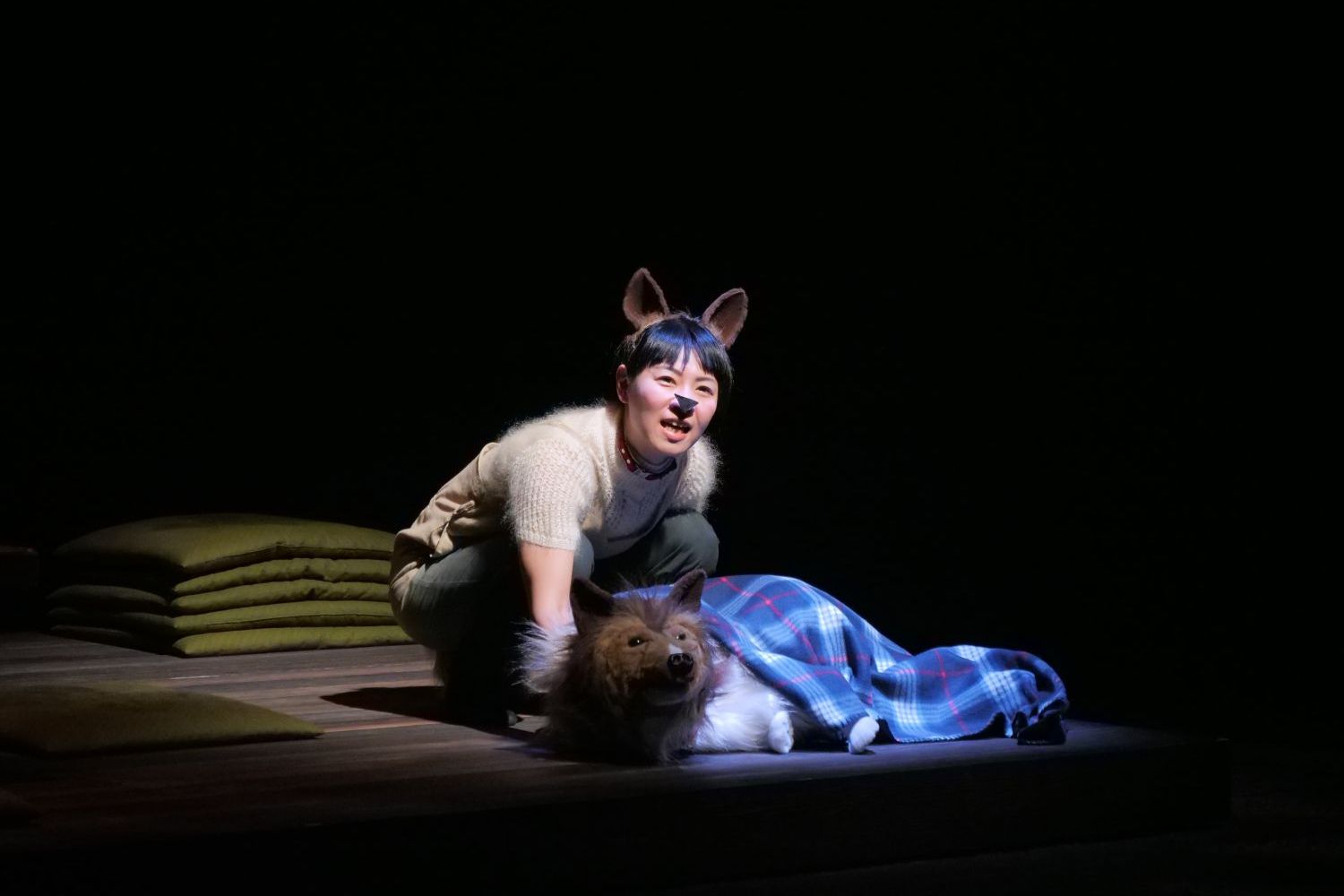 福島三部作 第二部『1986年:メビウスの輪』
Fukushima Trilogy #2 "1986: Mobius Strip"
DULL-COLORED POP
DULL-COLORED POP
| | |
| --- | --- |
| 2.12 Fri | 14:30 |
| 2.13 Sat | 14:30 |
| 2.14 Sun | 14:30 |

オンライン配信

Accessible online

2.10 Wed

19:30

(ライブ配信)

(live streaming)

2.11 Thu

08:00

(2.10 Wed公演の録画)

(recording of the performance on 2.10 Wed)

上演時間

Run Time

約120分

Approx. 120 min

| | |
| --- | --- |
| 2.12 Fri | 14:30 |
| 2.13 Sat | 14:30 |
| 2.14 Sun | 14:30 |

オンライン配信

Accessible online

2.10 Wed

19:30

(ライブ配信)

(live streaming)

2.11 Thu

08:00

(2.10 Wed公演の録画)

(recording of the performance on 2.10 Wed)

上演時間

Run Time

約120分

Approx. 120 min
日本語(英語字幕つき)

Japanese with English subtitles
作・演出:谷賢一(DULL-COLORED POP)

出演:宮地洸成(マチルダアパルトマン/DULL-COLORED POP)、岸田研二、木下祐子、椎名一浩、藤川修二(青☆組)、古河耕史、百花亜希

美術:土岐研一
照明:松本大介
音響:佐藤こうじ(Sugar Sound)
衣裳:友好まり子
舞台監督:竹井祐樹(StageDoctor Co. Ltd.)
演出助手:美波利奈
制作:小野塚央

字幕翻訳:山田カイル

 

文化庁令和2年度戦略的芸術文化創造推進事業「JAPAN LIVE YELL project」
JAPAN LIVE YELL project ヨコハマ & カナガワ
主催:文化庁、公益社団法人日本芸能実演家団体協議会、PARC – 国際舞台芸術交流センター、国際舞台芸術ミーティング in 横浜 2021 実行委員会

Written and Directed by Kennichi Tani (DULL-COLORED POP)

Performers: Hironari Miyachi (mathilde appartement / DULL-COLORED POP), Kenji Kishida, Yuko Kinoshita, Kazuhiro Shiina, Shuji Fujikawa (ao-gumi), Koji Furukawa, Aki Momoka

Scenography: Kenichi Toki
Lighting: Daisuke Matsumoto
Sound: Koji Sato (Sugar Sound)
Costumes: Mariko Tomoyoshi
Stage Manager: Yuki Takei (StageDoctor Co. Ltd.)
Assistant Director: Rina Minami
Management: Chika Onozuka

Subtitle Translation: Kyle Yamada

 

JAPAN LIVE YELL Project (Strategic Project to Create Culture and the Arts)
JAPAN LIVE YELL project Yokohama & Kanagawa
Organized by the Agency for Cultural Affairs, Japan Council of Performers' Rights & Performing Arts Organizations (Geidankyo), PARC – Japan Center, Pacific Basin Arts Communication, Performing Arts Meeting in Yokohama 2021 Executive Committee
福島で生まれ、原発で働く技術者を父に持つ谷賢一が、2年半に渡るリサーチを経て書き下ろし、1960年代以来の日本の小劇場の様々なスタイルを取り入れてまとめあげた合計約6時間の三部作。2018年に第一部を先行上演、2019年にいわき、東京、大阪で三作品を一挙に上演し1万人以上を動員、2020年の岸田國士戯曲賞を受賞した。再演不可能と言われた大作を、東日本大震災・福島第一原発事故10周年の開催となるTPAM2021で再訪する。
福島第一原発が建設・稼働し、15年が経過した1985年の双葉町。かつて原発反対派のリーダーとして活動したために議席を失った<穂積 忠>(<孝>の弟)の下に、ある晩2人の男が現れ、説得を始める。「町長選挙に出馬してくれないか、ただし『原発賛成派』として……」。そして1986年、チェルノブイリでは人類未曾有の原発事故が起きようとしていた。実在した町長・岩本忠夫氏の人生に取材し、原発立地自治体の抱える苦悩と歪んだ欲望を描き出すシリーズ第二弾。
Six hours in total, the Fukushima Trilogy was written through 30-month research and directed using different styles of the Japanese independent theatre since the 1960s by Kenichi Tani, playwright/director born in Fukushima whose father was an engineer working at the nuclear plant. Having drawn more than 10,000 audience in Iwaki, Tokyo and Osaka, the trilogy won the Kishida Kunio Drama Award in 2020. In the 10th anniversary of the Great East Japan Earthquake and accident of the Fukushima Daiichi Nuclear Power Plant, TPAM revisits the epic work with a large cast and live stream it for international audience with English subtitles.
In 1985, it has been fifteen years since the Fukushima Daiichi Nuclear Power Plant started its operation in Futaba town. One evening, two men visit Tadashi Hozumi, a younger brother of Takashi, who has lost his seat in the assembly because he led an anti-nuclear plant movement, to persuade him to come back and run for mayor, but this time to support the nuclear plant. Meanwhile, an unprecedented nuclear accident was going to occur next year in Chernobyl... The second part of the trilogy that reveals the ambivalence and distorted desires in a municipality dependent on a nuclear plant, based on research into the life of Mr. Tadao Iwamoto, the real mayor of the town at that time.
谷賢一
Kenichi Tani
劇作家、演出家。福島県生まれ、千葉県育ち。明治大学、イギリス・ケント大学で演劇学を学び、2005年に劇団DULL-COLORED POPを旗上げ。2016年にセゾン文化財団ジュニア・フェローに選出される。シルヴィウ・プルカレーテ、フィリップ・デュクフレ、シディ・ラルビ・シェルカウイなどの作品にも脚本や演出補などで参加している。2020年『福島三部作』にて第23回鶴屋南北戯曲賞、第64回岸田國士戯曲賞受賞。
Playwright and director. Born in Fukushima and raised in Chiba. Studied drama and theatre at Meiji University and Kent University, and founded his company DULL-COLORED POP in 2005. Selected as a Junior Fellow of The Saison Foundation in 2016. He has also taken part in the script or direction of works by Silviu Purcărete, Philippe Decouflé and Sidi Larbi Cherkaoui among others, and received the 23rd Tsuruya Namboku Drama Award and the 64th Kishida Kunio Drama Award with Fukushima Trilogy in 2020.