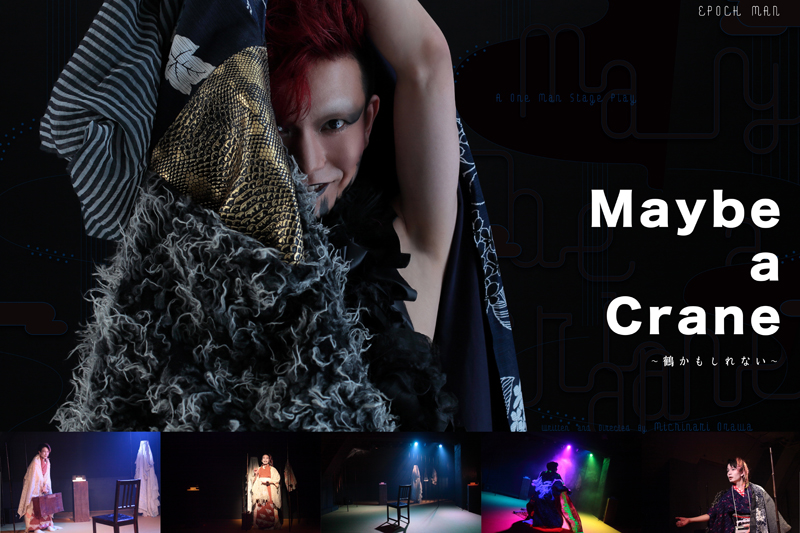 Maybe a Crane ~鶴かもしれない~
Maybe a Crane (Tsuru kamo Shirenai)
EPOCH MAN
EPOCH MAN
2.10 Mon

20:00

2.11 Tue

15:00

2.13 Thu

20:00

2.14 Fri

20:00

2.15 Sat

15:00

/

18:30

2.16 Sun

11:00

/

16:30

上演時間

Run Time

60分

60 min

2.10 Mon

20:00

2.11 Tue

15:00

2.13 Thu

20:00

2.14 Fri

20:00

2.15 Sat

15:00

/

18:30

2.16 Sun

11:00

/

16:30

上演時間

Run Time

60分

60 min
TPAM参加登録者特典:英訳あらすじ付きパンフレット
日本語(英語資料配布)

Japanese (English synopsis provided)
主催:EPOCH MAN

Planned and organized by EPOCH MAN
日本の民話「鶴の恩返し」を、現代の東京で生きるひとりの女性の物語に置き換え、ラジカセ3台と10着の着物を使って演出した異色のひとり芝居。2014年と2016年に上演された人気作の再再演。2020年1月に下北沢・駅前劇場で上演される演出とは違い、横浜公演では舞台美術を使わず〝映像〟を使っての演出で新たな『鶴かもしれない』を上演する。
This one-man stage play is performed with 3 radio cassette players and 10 KIMONO (Japanese traditional garment) to portray the story of a woman living in present Tokyo, based on the Japanese folk tale "Tsuru no Ongaeshi (The Grateful Crane)". It was first performed in 2014. From favorable reputations, it was first revived in 2016 and then 2020. The direction of the newest version of Tsuru kamo Shirenai (Maybe a Crane) performance in Yokohama is different than the performance in Shimokitazawa Ekimae Gekijyou (Theater). Yokohama version will be directed by using video effect instead of stage settings.
Translated by KURATA Chikako
EPOCH MAN
EPOCH MAN
鴻上尚史主宰「虚構の劇団」に所属する俳優・小沢道成による演劇企画。俳優だけでなく作・演出・美術も小沢自身が手掛け、人の心の中をえぐり出すような作風と、繊細かつ粘り気がありながらスピード感ある演出、そして、毎公演驚くようなアイデアとギミックに溢れた舞台美術で観客を魅了している。〈小沢道成/主な出演舞台〉新感線☆RS『メタルマクベス』、M&Oplaysプロデュース『皆、シンデレラがやりたい。』
"EPOCH MAN" is a theater producing project organized by OZAWA Michinari. He is an actor of a theater company called "Kyokou no Gekidan ('Fabricated Troupe')", presented by KOKAMI Shoji.In EPOCH MAN, Michinari is not just an actor but he also wrights, directs, and designs sets. His works are often characterized as deeply portrays the minds of human, delicate and patient direction, persists the sense of speed, and surprising sets with full of tricks and perspectives. That is why the audiences are fascinated by his works.
Translated by KURATA Chikako