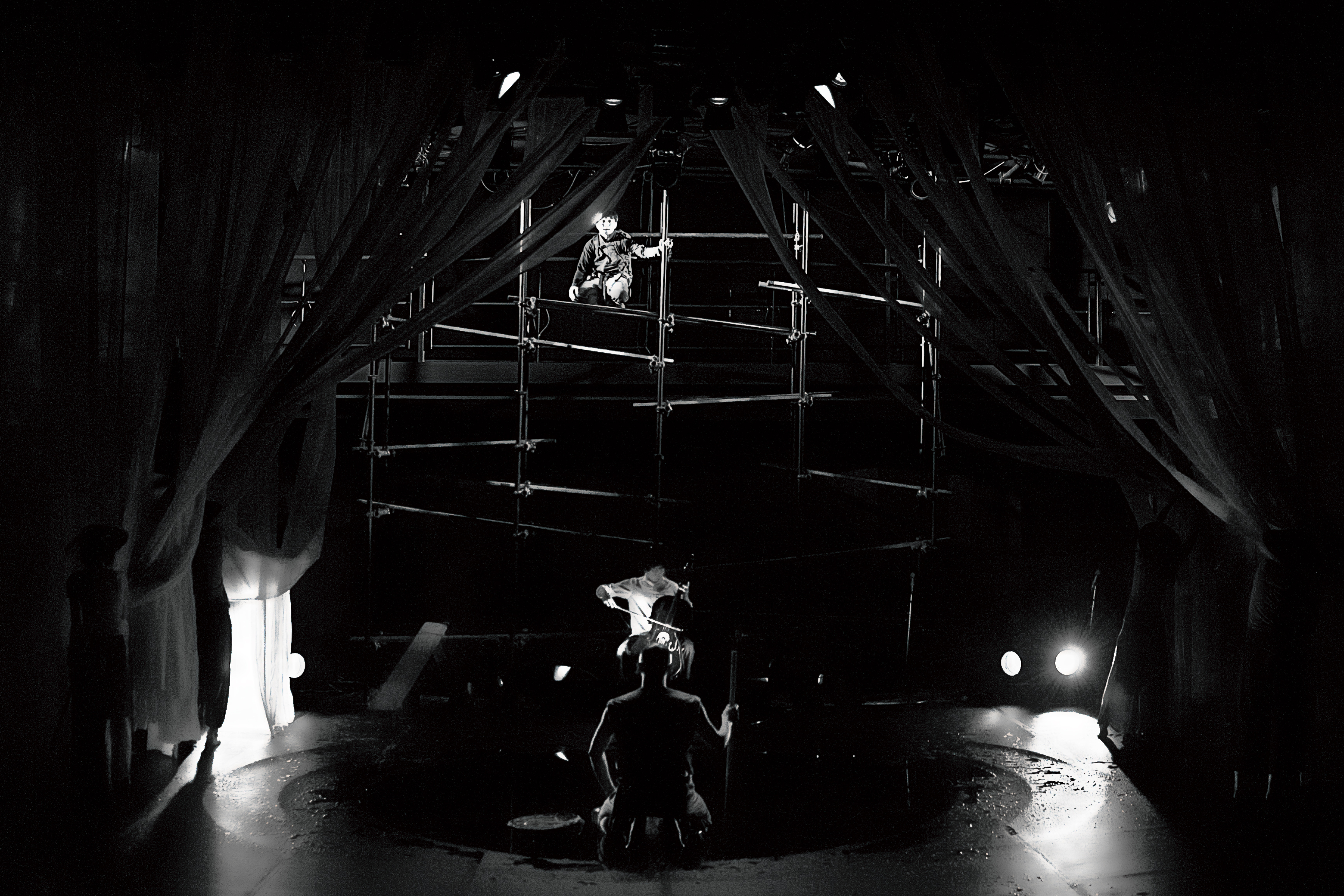 まほろばの景 2020
Landscape of Mahoroba 2020
烏丸ストロークロック
Karasuma Stroke Rock
2.16 Sun

13:00

/

18:00

上演時間

Run Time

100分

100 min

2.16 Sun

13:00

/

18:00

上演時間

Run Time

100分

100 min
前売一般¥3,800

当日一般¥4,300

前売25歳以下¥2,800 *要ID提示

当日25歳以下¥3,300 *要ID提示

Adv General¥3,800

Door General¥4,300

Adv U-25¥2,800 *ID required

Door U-25¥3,300 *ID required

TPAM Registrant Benefit: ¥500 discount
日本語(英語資料配布)

Japanese (English synopsis provided)
主催:烏丸ストロークロック
提携:公益財団法人東京都歴史文化財団 東京芸術劇場
助成:アーツサポート関西

Planned and organized by Karasuma Stroke Rock
Cooperated by Tokyo Metropolitan Foundation for History and Culture Tokyo Metropolitan
Subsidized by Arts Support Kansai
京都を拠点に活動する劇団・烏丸ストロークロックが2011年の東日本大震災と日本人の自然観に大きな影響を与えたと考えられる山岳信仰を題材に、仙台での滞在制作とその後の短編劇の創作を経て、2018年に上演し話題となった『まほろばの景』を再創作。『まほろばの景』初演上演後、東北地方での神楽や修験道に関する現地取材を重ね、慰霊や鎮魂の役割を果たしてきた「祭」をテーマにした新作『祝・祝日』を発表した。
Kyoto-based theater company Karasuma Stroke Rock will re-create their work Landscape of Mahoroba premiered in Kyoto and performed in Tokyo 2018 with a great success. It was presented after their residency in Sendai and creation of short pieces, dealing with the subjects of the Great East Japan Earthquake in 2011 and the mountain worship that seems to have largely influenced the Japanese concept of nature. After its premiere, they have repeated the local research of kagura, sacred music and dance,and religious practice of shugendo in Tohoku region. They have presented a new work Celebration of Feast Day with a subject of "festivity" that have had roles of commemoration and repose of souls.
烏丸ストロークロック
Karasuma Stroke Rock
1999年設立。京都を拠点に国内各地で演劇活動を行う。モチーフとなる地域での取材やフィールドワークを元に短編作品を重ね、数年かけて長編作品へと昇華させていく創作スタイルが評価される。近年では地域に伝わる神楽や祭、山伏文化と精神性に触れ、『まほろばの景』(2018)は日本古来の感覚を呼び覚ます作品として反響を得る。作・演出の柳沼は第60回岸田國士戯曲賞ノミネート、平成28年度京都市芸術新人賞受賞。
Based in Kyoto,the company works all over Japan.They are acclaimed for their style of realizing a full-length piece in years by repeatedly creating short pieces developed through the research and fieldwork in the area of work's model. Their recent work "Landscape of Mahoroba", born from the contacts with kagura, locally descended sacred music and dance, and festivals as well as the culture and spirituality of mountain monks, and "Landscape of Mahoroba" received great responses for invoking the sense of ancient times of Japan. The playwright and director of the company, Yaginuma was nominated for the 60th Kishida Kunio Drama Award and received the Kyoto City Arts Award for Young Artists.