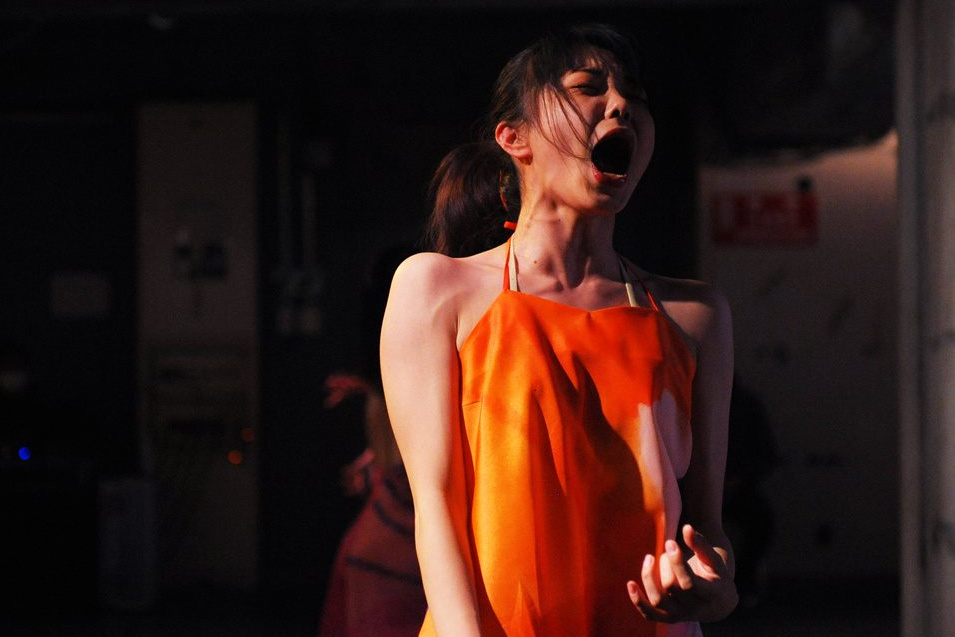 Gold Experience ワークインプログレス公演
Gold Experience Work in Progress
岩渕貞太/岩渕貞太 身体地図
TEITA IWABUCHI / TEITA IWABUCHI BODY MAP
2.13 Thu

17:00

2.14 Fri

16:00

2.15 Sat

18:00

2.16 Sun

14:00

上演時間

Run Time

60分(パフォーマンス30分 + トーク30分)

60 min (Performance 30 min + Talk 30 min)

2.13 Thu

17:00

2.14 Fri

16:00

2.15 Sat

18:00

2.16 Sun

14:00

上演時間

Run Time

60分(パフォーマンス30分 + トーク30分)

60 min (Performance 30 min + Talk 30 min)
前売¥1,800

当日¥2,000

学生¥1,200 *前売のみ・要学生証提示

ペア割¥3,000 *同日2枚・前売のみ

 

Adv¥1,800

Door¥2,000

Student¥1,200 *Adv only / ID required

Pair ticket¥3,000 *2 tickets for the same day & Adv only

 
主催:岩渕貞太 身体地図
助成:公益財団法人セゾン文化財団

Planned and organized by TEITA IWABUCHI BODY MAP
Subsidized by The Saison Foundation
舞踏や武術のリサーチから東洋的、古代的な身体を作り出す岩渕貞太の振付作品。古代の呪術を司った巫女をイメージの源に、身体に刻まれている歴史・記憶の三つの層(個人ー文化ー生物)を紐解き、カラダが生きて動く根元を引き出す、実験的なダンス。2020年秋の本公演に向けてのワークインプログレス公演。
A new work choreographed by Teita Iwabuchi, whose work draws on his research into butoh and martial arts to stage bodies that are uniquely Eastern and ancient. This is an experimental dance piece based on the image of a Shinto shrine maiden performing ancient magic. By unraveling the mysteries of history as it is inscribed on the body and examining three different modes of memory (persona/cultural/biological), this piece extracts and presents he most basic root elements of how a body and lives and moves. This is a work in progress performance of a piece that will officially premier in the fall of 2020.
Translated by Christopher Gregory
岩渕貞太/岩渕貞太 身体地図
TEITA IWABUCHI/TEITA IWABUCHI BODY MAP
玉川大学で演劇専攻、同時に、日本舞踊や舞踏を学ぶ。故・室伏鴻の舞踏公演に出演、影響を受ける。「身体の構造」「空間や音楽と身体の相互作用」に着目した自身の創作作品を発表。2012年、横浜ダンスコレクションにて在日フランス大使館賞受賞(共同振付・関かおり)。舞踏や武術、生物学・脳科学・哲学等からなどからインスパイアされた、独自の身体表現「網状身体」を開発。急な坂スタジオレジデントアーティスト。
Studied theater at Tamagawa University, while simultaneously studying Japanese dance and butoh. Appeared in butoh performances by Koh Moroboshi (1947-2015) and was influenced by his work. Began to present original works, focusing on the structure of the body and the interplay between space, music, and the body. In 2012, recipient of the French Embassy Award at the Yokohama Dance Collection for a piece jointly choreographed with Kaori Seki. Developed a unique method of bodily expression called "the matrixed body," inspired by butoh, martial arts, biology, neuroscience, and philosophy. Artist in Residence at Steep Slope Studio.
Translated by Christopher Gregory