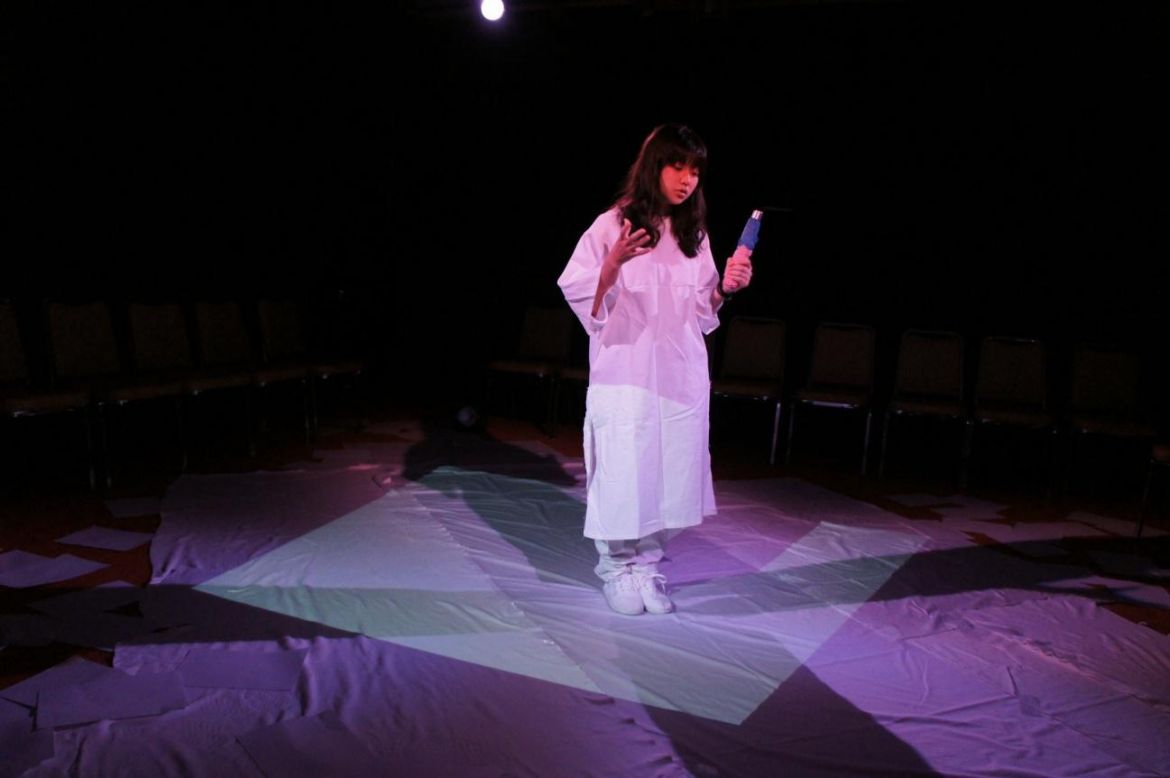 α(あのときそのときあのころそのころ)→ β(僕は俺は自分は私はあたしはうちは)← γ(あなたが好き)
α → β ← γ
パッチワークス
patchworks
2.9 Sat

19:00

2.10 Sun

13:00

/

17:00

上演時間

Run Time

60分

60 min

こちらの公演は、主催者の都合により、やむを得ず全行程をキャンセルさせて頂く事になりました。

2.9 Sat

19:00

2.10 Sun

13:00

/

17:00

上演時間

Run Time

60分

60 min

This performance has been cancelled due to certain circumstances.
一般¥2,500

学生以下¥1,500

当日各種¥500増し

General¥2,500

Student¥1,500

Door+¥500
演劇が持ちうる「時間」の定義の表現の多様性を中心に作品を構成します。舞台上の出来事を「そのとき」とし、そこに「在る」こと、今「このとき」という現実の定義から離れた舞台を構築、役者が「あのとき」の出来事を舞台で表し、インスタレーションアートとして「そのとき」を舞台に投影します。時間が混じり合った空間、「今」から「あのころ/そのころ」を振り返り、これからを共有しうる時間を作ります。
This piece is structured around the diverse expressions of "time" that can exist in theater. The events on the stage can be designated as "that time." The things that "exist" on that stage are constructed as being separate from the present moment of "this time" as it is defined in reality. Actors express the events of "that other time," and they project "that time" onto the stage, as if it was a piece of installation art. In this space where different times are mixed together, we look back from "now" onto "that other time" or "this time," creating a time where future events can be shared.
パッチワークス
patchworks
Formed in December 2014 as the theater company of Artistic Director Koichi Murayama. The concept of patchworks is, "Presenting theater that anyone can participate in and enjoy, regardless of their environment, perspective, occupation, or affiliation." The company aims to maintain a balance between creating theatrical work and social engagement. Their work frequently focuses on portraying their immediate surroundings. By quoting, deconstructing, and reconstructing classic literature, poetry, and music, the company creates prosaic theater that expresses the multifaceted inner life of a single individual. In the future, patchworks hopes to create a new multienvironmental, multinational, and multilingual type of theatrical expression.
Contact
https://www.patchworkstheatre.com/
patch.works.mk@gmail.com
090-2828-7037