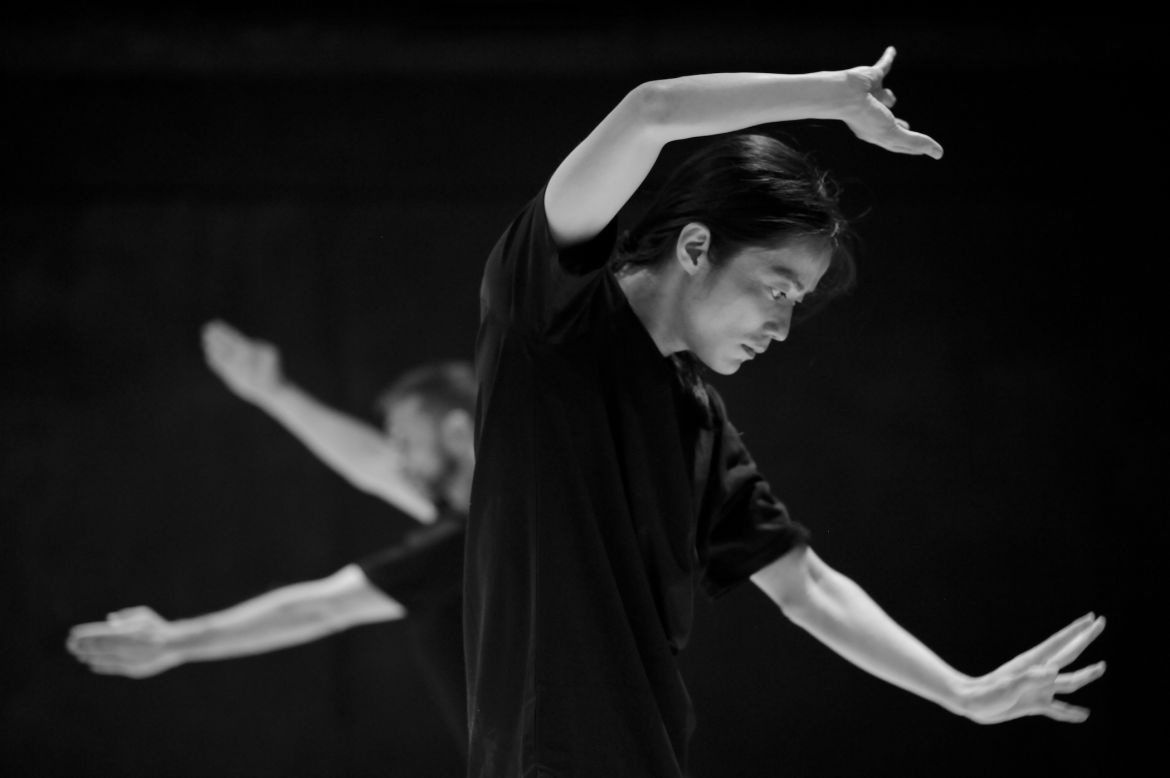 距離のある波の上で
A WAVE FROM A DISTANCE
ラファエル・アルヴァレス|BODYBUILDERS
Rafael Alvarez | BODYBUILDERS
2.13 Wed

15:00

/

19:00

2.14 Thu

15:00

/

19:00

上演時間

Run Time

40分

40 min

2.13 Wed

15:00

/

19:00

2.14 Thu

15:00

/

19:00

上演時間

Run Time

40分

40 min
一般¥2,000

一般のチケットをお求めの方は、①お名前 ②公演時間 ③枚数を明記の上、bodybuilders.rafaelalvarez@gmail.com までお送りください。

General¥2,000

For geneal tickets, please send the following information: 1) Name 2) Performance date and time 3) Number of ticket, to the email address below.

bodybuilders.rafaelalvarez@gmail.com
Co-produced by: BODYBUILDERS | Rafael Alvarez & 23 Milhas – Ílhavo | Residency Support: Le Carreau du Temple (Paris), Ryogoku Bear (Tokyo), Rimbun Dahan (Malaysia), Estúdios Vitor Córdon/CNB (Lisbon), O Espaço do Tempo (Montemor-o-Novo) | Support in Japan: Camões – Portuguese Cultural Center in Tokyo / Embassy of Portugal in Tokyo | Support for Internationalization: Gulbenkian Foundation | Co-financed by: Directorate-General for the Arts / Ministry of Culture (Portugal)

Co-produced by: BODYBUILDERS | Rafael Alvarez & 23 Milhas – Ílhavo | Residency Support: Le Carreau du Temple (Paris), Ryogoku Bear (Tokyo), Rimbun Dahan (Malaysia), Estúdios Vitor Córdon/CNB (Lisbon), O Espaço do Tempo (Montemor-o-Novo) | Support in Japan: Camões – Portuguese Cultural Center in Tokyo / Embassy of Portugal in Tokyo | Support for Internationalization: Gulbenkian Foundation | Co-financed by: Directorate-General for the Arts / Ministry of Culture (Portugal)
ひとつの側ともうひとつの側で、ふたつの身体が、遭遇と不一致の潮汐であるような儚いダンスを求めて静寂の中を航海する。遠く、近く、ふたりのダイバーたちは、私たちのものではない記憶と影の見えない対話の中に自身を見出す。紙の振り付け — 遠く、近く、遠くよりも近く、東と西で、大洋の両端にいるふたりのダンサーが、幻影の海を表面化する。そして波長の中に(別の波との)遭遇の場を与える。石川勇太と共同しながら、ポルトガル、フランス、そして日本で新作を演出し、葛飾北斎の代表的な絵である『神奈川沖浪裏』から着想をえた創作プロジェクトに連続性を与える。
On one side and the other, two bodies sail in silence for a fragile dance that is wave and tide of encounters and disagreements. Near and far, the two divers discover themselves in an invisible dialogue of memories and shadows. A paper choreography drawn from an open dance of senses and dives in other readings - far and near, closer than far, east and west, on either side of the ocean, they bring to the surface a sea of illusions. And in the range of a wave they give place to the encounter (of another wave). Rafael Alvarez gives continuity to his creation project inspired by Hokusai's iconic image of The Big Wave of Kanagawa directing a new piece between Portugal, France and Japan in collaboration with Yuta Ishikawa.
ラファエル・アルヴァレス|BODYBUILDERS
Rafael Alvarez | BODYBUILDERS
振付家、ダンサー、研究者、講師、舞台美術・衣装デザイナー。1997年より世界各地で作品を発表。身体、動き、そして空間を象徴的、記号的、詩的に最小限に使用することで、強い個人のイメージを浮き上がらせる非常に視覚的な振り付け作品を20年以上開発している。1998年より「Improvisation/Composition and Inclusive Dance」で講師を務め、学生、ダンサー、障がい者、年長者、パーキンソン病患者、子供やアーティストに教えている。
Choreographer and dancer, set and costume designer, researcher and teacher. His choreographic work has been presented since 1997 in Europe, South America and North America, Middle East, Asia and Africa. Over the last 20 years, he has been developing a highly visual choreographic work revealing a strong personal imagery that stands out for an enigmatic, symbolic, poetic and minimalist use of the body, movement and space. He has been teaching since 1998, Improvisation/Composition and Inclusive Dance, involving students and professional dancers, people with disabilities, seniors, people with Parkinson's, children and artists in general. Artistic director of BODYBUILDERS – Contemporary Dance & Performance (Lisbon, Portugal).