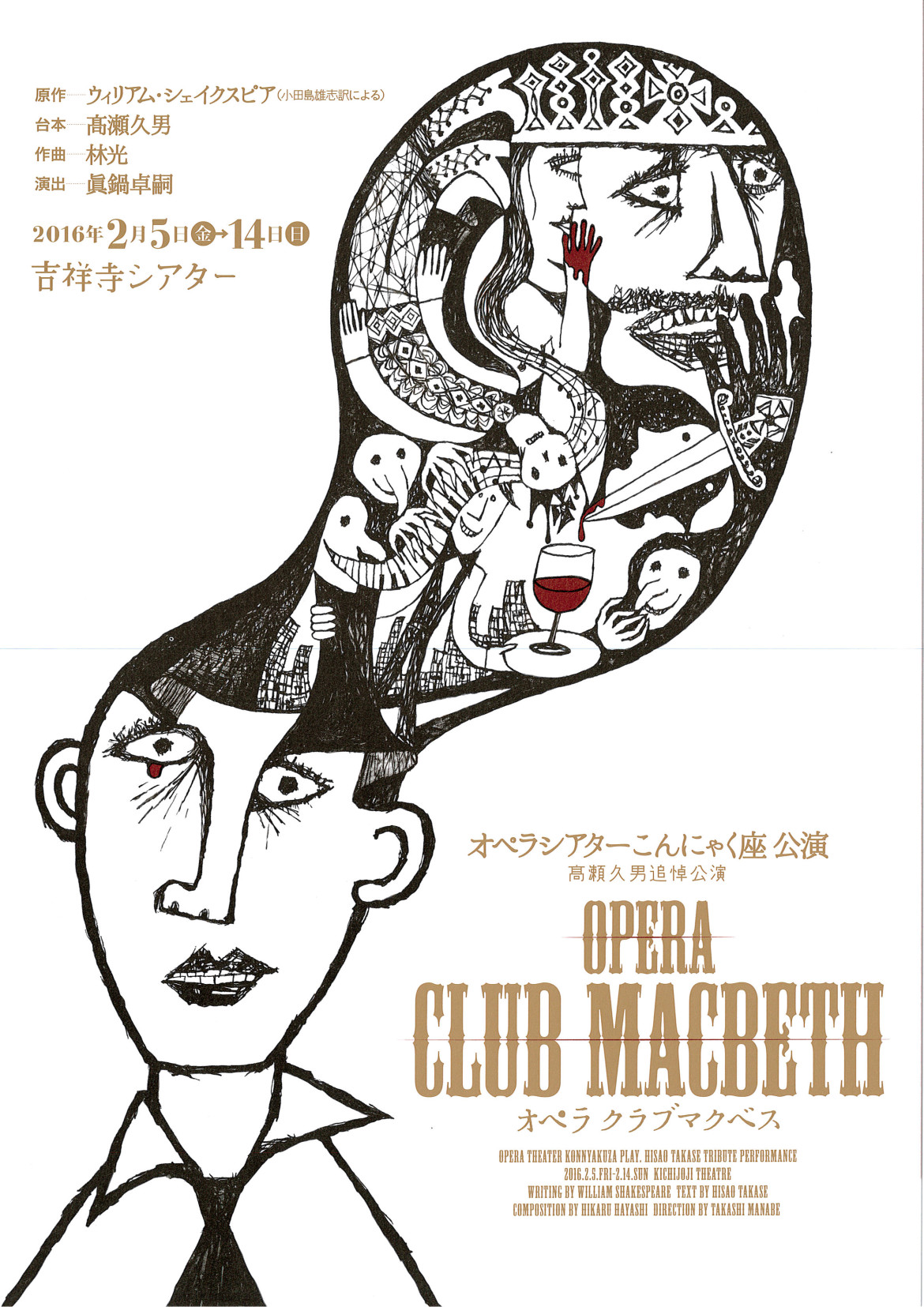 Opera club Macbeth
Opera Theater Konnyakuza(Kawasaki)
1-33-22 Kichijoji Honcho, Musashino-shi, Tokyo
2.5 Fri

19:00

2.6 Sat

13:00

2.7 Sun

13:00

2.8 Mon

13:00

2.9 Tue

13:00

2.10 Wed

19:00

2.11 Thu

13:00

2.12 Fri

19:00

2.13 Sat

13:00 / 18:00

2.14 Sun

13:00


Run Time:150 min(15 min break included)

Adv & Door

¥6,000

Pair

¥11,000

Special Seat

¥4,000
*Reserved seats and the number is limited.
*Weekdays only. Available only from the company

U25

¥3,500
*Available only on weekdays. ID Required.

Student

¥2,000 *ID Required
:Adv & Door ¥5,500 Pair ¥10,000
• Registration for TPAM is required to receive the benefit.
• Please make reservations via an TPAM My Page, to which we invite you after your registration. Availability is limited.
• Please bring your TPAM Pass to the venue or please tell your name at the door if you don't have TPAM Pass.
This Shakespearean opera is presented by Opera Theater Konnyakuza, an opera company that explores the possibilities of both theater and music in the constant pursuit of presenting a new kind of opera.
A man wanders into a bar called Club Macbeth. Macbeth is being performed there, and before he knows it the man is drawn into that world. What awaits him there? Is it destruction, or …?
In this long awaited revival of the well received original performance from 2007, Macbeth's troubled mind as he treads the border between fiction and reality comes back to life as a modern story.
Opera Theater Konnyakuza
Opera Theater Konnyakuza's goal is to create and popularize new Japanese opera. It was founded in 1971 as an opera company that performs a repertory of Japanese languages opera pieces. The company grew out of the student circle known as the Konnyaku Exercise Club at the Tokyo University of the Arts. Hayashi Hikari and Kyoto Hagi serve as the company's composers. They have created countless opera pieces that can be enjoyed by children and adults alike, and their works have been performed both throughout Japan and abroad. They are the recipient of numerous awards, including the Agency for Cultural Affairs National Arts Festival Award and the Ongaku no Tomo Award.
Contact: Opera Theater Konnyakuza
Phone: 044-930-1720 / Email