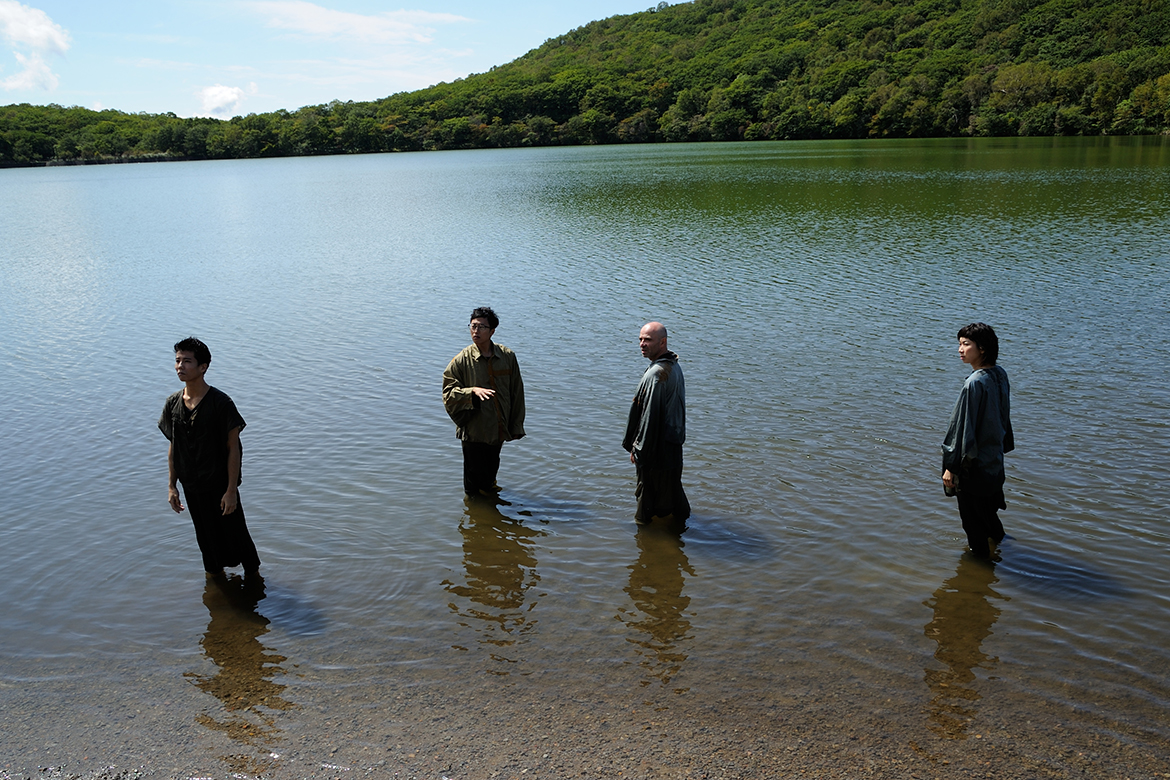 2030世界漂流
2030 WORLD DRIFTING
Super Theater 小池博史ブリッジプロジェクト
Super Theater Hiroshi Koike Bridge Project
2.8 Thu

19:30

2.9 Fri

19:30

2.10 Sat

13:30 / 18:30

2.11 Sun

13:30

2.12 Mon

13:30 / 18:30

上演時間

Run Time

85 min

2.8 Thu 以前の公演日程:

2.3 Sat 13:30

2.4 Sun 13:30

2.5 Mon 19:30

2.6 Tue 19:30

2.7 Wed 13:30

Schedule before 2.8 Thu:

2.3 Sat 13:30

2.4 Sun 13:30

2.5 Mon 19:30

2.6 Tue 19:30

2.7 Wed 13:30
前売 一般 ¥5,000

前売 学生 ¥3,900

前売 高校生以下 ¥2,500

前売 本セット券 ¥6,950

当日 本セット券 ¥7,450

当日 一般 ¥5,500

当日 学生 ¥4,400

当日 高校生以下 ¥3,000

VIP券 ¥10,000(前売のみ/各回限定5席)

アルテ友の会会員価格(前売のみ/公益財団法人武蔵野文化事業団でのみの取り扱い)一般 ¥4,500

TPAM参加登録者特典:『2030世界漂流』オリジナルポストカードセット(2月8日-12日の公演のみ)

Adv General ¥5,000

Adv Student ¥3,900

Adv High school and below ¥2,500

Adv ticket with a book ¥6,950

Door ticket with a book ¥7,450

Door General ¥5,500

Door Student ¥4,400

Door High school and below ¥3,000

The Musashino Cultural Foundation Member (*Adv only. Available at The Musashino Cultural Foundation) General ¥4,500
VIP ¥10,000

TPAM Registrant Benefit: "2030 WORLD DRIFTING" Original Postcard Set (Perfromances from 2.8-12 only)
「世界を追われ、彷徨う人々」をテーマに、元シルク・ドゥ・ソレイユのフィリップ・エマール、インドを代表する若手女優、ムーンムーン・シンをはじめ、様々な出自を持つ出演者、総勢13名による『2030世界漂流』。横笛奏者でサックス奏者の太田豊やラッパー、ジャンベ奏者の下町兄弟などによる生演奏、浜井弘治の衣装、飯名尚人の映像が、独自の世界観を作り上げる。2030年、漂流する世界の民が描き出す未来とは……。
詳細・お問い合わせ
http://kikh.com/special/hyoryu/
03-3385-2066
sai@kikh.com
With the theme of "Wanderers, the ones who driven out from home", 2030 World Drifting stars Philippe Aymard, the former member of Cirque du Soleil, Moon Moon Singh, the young actress representing India and 13 performers with various backgrounds. Music is performed live by Yutaka Ota, the Japanese traditional flute / saxophone player, Shitamachi Kyoudai and so on. Additionally, Koji Hamai's costume and Naoto Iina's media art make up the unique view of the world of this production. In 2030, what future would the drifting people around the world have?
More information / Contact
http://kikh.com/special/hyoryu/
03-3385-2066
sai@kikh.com
Super Theater 小池博史ブリッジプロジェクト
Super Theater Hiroshi Koike Bridge Project
2011年3月11日の東日本大震災を経て、演出家・小池博史は前カンパニー「パパ・タラフマラ」を解散。その後、舞台活動を通して限界のある消費型社会から調和型社会へと向かうための方向性を示すことを試み、「小池博史ブリッジプロジェクト」を設立した。公演事業以外にも、ワークショップやレクチャーを通して、日本はもとより海外の市民に包括的な視点の提示を行い、よりよい社会の構築を目指して活動している。
After the Great East Japan Earthquake on March 11, 2011, director Hiroshi Koike dissolved his former company Pappa TARAHUMARA and established Hiroshi Koike Bridge Project (HKBP). Through performing arts, he depicts how to move away from a limited society of consumerism, toward a more harmonious society. In addition to performance projects, HKBP also aims to make a better society by presenting a comprehensive perspective through workshops and lectures to not only Japanese citizens but also to people outside of Japan.