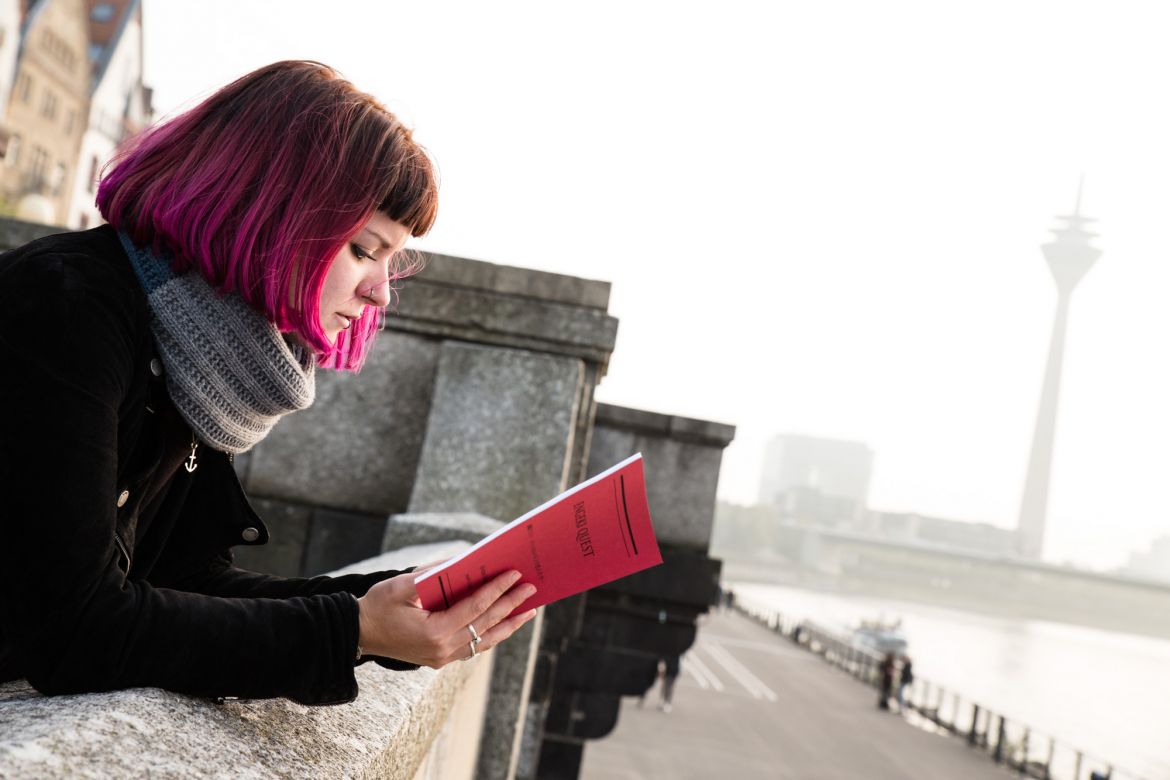 演劇クエスト・横濱パサージュ編
ENGEKI QUEST - Yokohama Passage -
藤原ちから(BricolaQ)
Chikara Fujiwara (BricolaQ)
2.10 Sat

09:00 - 17:00

2.11 Sun

09:00 - 17:00

2.12 Mon

09:00 - 17:00

2.13 Tue

09:00 - 17:00

2.14 Wed

09:00 - 17:00

2.15 Thu

09:00 - 17:00

2.16 Fri

09:00 - 17:00

2.17 Sat

09:00 - 17:00

2.18 Sun

09:00 - 17:00

上演時間

Run Time

30-100 min

            *短編による

*上記時間帯:「冒険の書」のピックアップ受付時間

他会場後日発表

            *depends on a script

*Please go pick up the "Adventure Book" during the period above.

Other venues TBA
Free (Reservation not required)
「冒険の書」に書かれた指示を頼りに、参加者が自分自身で行動を選択していく。現実の都市空間を舞台にしたこの『演劇クエスト』は、マニラ、デュッセルドルフ、安山など各地で創作されてきた。今回は若手アーティスト集団「港の探偵団」がリサーチを行い、約10編の短編を執筆。横浜の深部へとあなたを誘う。「冒険の書」は好きなタイミングでピックアップ可能。
詳細・お問い合わせ
http://bricolaq.com/
bricolaq@gmail.com
主催:横浜市経済局、中区役所
助成:セゾン文化財団
Participants choose their own adventure, relying on the instructions in an Adventure Book. This ENGEKI QUEST set in real urban space has been created in various cities such as Manila, Düsseldorf, Ansan City, and many others. For this version, the young artist collective Port Detectives conducted research and wrote about 10 short stories. This book will invite you to venture deep into Yokohama. You can pick up an Adventure Book at any time.
More information / Contact
http://bricolaq.com/
bricolaq@gmail.com

Organized by Yokohama City Economic Affairs Bureau, Yokohama City Naka Ward Office
Subsidized by Saison Foundation
藤原ちから(BricolaQ)
Chikara Fujiwara (BricolaQ)
1977年高知市生まれ。BricolaQ主宰。横浜や京都を拠点に、世界各都市で批評家またはアーティストとして、さらにはキュレーター、メンター、ドラマトゥルクとしても活動。「壁」によって分断された世界を繋ごうと、『演劇クエスト』を横浜、城崎、マニラ、デュッセルドルフ、安山で創作。また「港」と「人の移動」に興味を持ち、パフォーマンス『港の女』をマニラで上演。セゾン文化財団シニア・フェロー。
Born in Kochi (Japan) in 1977. The chief of BricolaQ. He is based in Yokohama or Kyoto and acting in various cities as a critic / artist / curator / mentor / dramaturg. In order to connect the world divided by walls, he produced ENGEKI QUEST in Yokohama, Kinosaki (Japan), Manila (Philippines), Düsseldorf (Germany), and Ansan (Korea). And he is also interested in ports and human mobility, so he created the performance titled Woman In A Port in Manila. Senior Fellow of The Saison Foundation.