TPAM Exchange is a program that facilitates networking by offering opportunities for performing arts professionals to introduce their activities, productions and projects. Build new knowledge and network by using "Group Meeting" to gather TPAM participants and talk on a specific topic and "Speed Networking" to have one-on-one meetings!
There are spaces for continuing meetings or chatting with colleagues and friends. Just come to the venue first of all!
2.14 Fri 11:30–16:00
2.15 Sat 11:30–16:00
TPAM registration required
Group Meeting
A program where participants that share interest can meet and talk. You can either propose a theme and host a meeting or participate in meetings that you are interested in. Any TPAM registrant can host a meeting. Reservation not required for participation in the meetings.
Current meeting titles (click here for the details of the hosts and themes)
Introduction to music unit 'ASA-CHANG&Junray' | About Networking | An Opportunity for Presentations to "OWL SPOT" THEATER | Present Activities and A Vision for the Future of Open Network for Performing Arts Management (ON-PAM) | What an International Theatre Festival in a Local City Means — the Projects and Future of "WorldTheatreFestivalShizuoka under Mt. Fuji" | Introducing the activities of Chelfitsch and Chiharu Shinoda | On the Supporting Activities of Asahi Group Arts Foundation | An Introduction to "Women in Japanese Literature" produced by RYUTOPIA | Sodsai Pantoomkomol Centre for Dramatic Arts: The Performing Arts Space for Artistic Encounter | Introduction to dance company 'Nibroll' | What kind of training programs will be in need in the near future? | Performing arts projects of the Japan Foundation | Kakiseni's Journey — Recruiting Arts Warriors in Malaysia | Projects of Setagaya Public Theatre | Introduction to 'Mikuni Yanaihara Project' | A Subsidy Program "Saison Fellow" and Efficient Use of Grants | KOBE-Asia Contemporary Dance Festival #3 and other programs | New Writing in Indian Theatre | Focus on Dance in Finland and the Other Nordic Countries | What Is Tokyo Culture Creation Project? | A session for Young Producers | An Sound Business Expansion Strategy For Small Dance Studios And Private Perfomers | A Subsidy Program of The Asian Cultural Council (ACC) | Reports by PACT Zollverein Resident Artists | New Funding opportunities for Japanese producers and artists in Australia | Use Oji Fringe Theatre to Make Your Debut | Introduction to WHS Visual Theatre | TACT/FEST Osaka International Art Festival for Kids 2014 | A Table for Thinking about International Collaborations — Let's Share Experiences for our Future Activities | Newest and largest AIR will be opend in Onsen city in April 2014 | Theatre as an Intervention in the Daily Life of Contemporary China | "mamagoto" in Shodo Island | The international exchange programs of Korea Arts Management Service (KAMS). | Arts Council Tokyo's Subsidy Program | Japanese Centre of ITI's commitment in "Theatre born in conflict Zones" – How can we react to contemporary theatre in the world? | Discuss "beauty" | Presentation of the performances by « L'Encyclopédie de la parole » | Polyglot Theatre — Australia's Leading Creator of Interactive Theatre for Children and Families | An Introduction to the Programs and Activities of YCAM for Domestic and International Participants | On the Activities of Asahi Art Square | Performing arts projects of the Japan Foundation | Meeting with 2 dancers from Vietnam | "Kids Project" of Setagaya Public Theatre | An Introduction to the Projects in "OWL SPOT" THEATER | The Residence Program of The Saison Foundation: Visiting Fellow | The Current Situation and Future of Theaters in Ehime | Projects for Overseas by KAAT | Touring Theatre by KODOMOKYOJIN | The activities and visions of JakArt | Subsidy Program of ARTS COMMISSION YOKOHAMA | How to Incorporate an Arts Organizaiton? | Dance in the Virtual World | Popular Music Workshop for Junior / High school Students by PERSONZ | How is it realistic to own a studio? | A Possibility of Criticism / Dramaturgy / Media | Japanese Centre of ITI – activities and collaborative opportunities
"Table" is for a small and intimate meeting with up to 12 participants and host(s).
"Room" is equipped with a video system and an English–Japanese consecutive interpreter supports your presentation, with up to 30 participants.
*Registration for "Room" is closed, since it has reached the capacity.
Host registration fee
Guest particiation
Capacity
Services offered
Table
¥5,000 / 30 min.
(up to 2 units = 1 hour)
Admission free
(reservation not required)
12
A table and chairs
Meeting theme translation and dissemination
Room
¥15,000 / 30 min.
(up to 2 units = 1 hour)
30
Exclusive use of a meeting room w/ table and chairs)
Meeting theme translation and dissemination
Video system, microphone, English–Japanese consecutive interpretation
• To register as a host, you need to register for TPAM first. After that, we invite you to the host registration form.
1st deadline: 1.10 Fri
Final deadline: 2.5 Wed 23:59 (Japan Standard Time)
• Meeting information that will have been registered by the 1st deadline will be on the website, program booklet and timetable. Registrations after that will be on the website and timetable.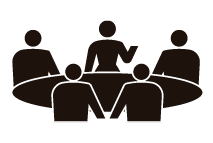 Speed Networking
A program for one-on-one meetings with international presenters including theatre programmers or festival directors. Participants can more directly and specifically communicate with the hosts in the 10-minute individial meetings (reservation required). 138 meetings with 27 hosts were held last year.
• To make reservations, you need to register for TPAM first. After that, we invite you to the online reservation form.
1st application period: 1.25 Sat 18:00– 2.1 Sat 23:59
2nd application period: 2.3 Mon 21:00 – 2.15 Sat
• Apply for meetings with up to 6 hosts. If applications are concentrated on particular hosts, reservations are chosen by lot.
• TPAM Secretariat organizes and suggests the timetable of meetings on 2.2 Sun. Please tell us your preferred date and time as well as when you are occupied.
• In the 2nd application period, you can apply only for hosts who are still available. This online form closes on 2.13. On 2.14 and 15, come directly to the venue.
Hosts (click here for their profiles)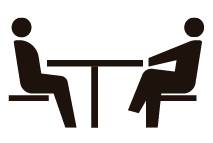 ---