Artist-in-Residence (AIR) programs have developed in the fields of fine art, literature, music, and recently performing arts. While the concepts of "global" and "local" are becoming less and less opposed, it is expected that artists build bases for long-term work beyond regional and national borders, and their will to create has actually been making them move. In addition, the development of diverse art forms require them to overcome pre-existing linguistic borders and to create new languages that are responsive to the contemporary society, which results in the need of time and space for ideas and creation.
Does AIR respond to this need? What are the meanings and tasks that are specific to AIR of performing arts? The 2nd Performing Arts AIR Meeting@TPAM since 2012 is organized as an exchange program in Yokohama where AIR specialists and artists gather from across Japan and the world to build network. Open discussions are also held, with a more focus on Asia than in the previous holding.
Organized by: PARC – Japan Center, Pacific Basin Arts Communication
Supported by the Agency for Cultural Affairs Government of Japan in the fiscal 2013

Contact: PARC – Japan Center, Pacific Basin Arts Communication 03-5724-4660/Email
Session 1
The Situation of Performing Arts AIR in Asia
In this session, we learn about unique examples of AIR and the latest situation in Japan, Korea and China, and having the Director of ASEF (Asia-Europe Foundation) talk about the situation of AIR and support for it in ASEAN, explore feasible and concrete approaches to Asia for artists and producers.
*With English-Japanese simultaneous interpretation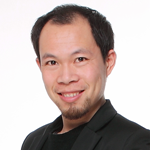 Xie Yihai, Sunny (Executive Director, GOOD Dance Center [GDC])
Xie Yihai, one of the founders of "GOOD Dance Center", currently Executive Director of "GOOD Dance Center" in Nanning, the first independent professional contemporary dance company in Guangxi Province in China. He endeavors to promote contemporary arts, particularly in Chinese modern dance. Since 2001, Xie has launched over 20 dance galas, exhibitions, and artistic events in Guangxi Province, and been invited to various dance festivals in mainland China, Hong Kong and Korea. In 2011, he invited Danish choreographer Jens Bjerregaard to Nanning to create a piece NOW for GOOD Dance Center, which subsequently toured to Beijing and Guangzhou. In 2012, he produced The Modern Dance Carnival Festival in Nanning, the first contemporary performing arts event in Guangxi.
Jaeeun Joo (Director of Artistic Management Team, LIG Arts Foundation)
Jaeeun Joo is the director of Artistic Management Team of LIG Arts Foundation ("LIG Arts"), a non-profit organization in Seoul, South Korea. Since 2000 she has built career focused on programming both international and domestic productions: Before joining the LIG Arts, she worked for LG Arts Center in Seoul (Korea), being in charge of international contemporary dance and theatre programs, and for the Yale Repertory Theatre and Yale Cabaret in New Haven (USA), as an Associate Managing Director. Currently she is in charge of programming and producing contemporary dance and music productions for LIG Arts' three small venues located in two major cities of Korea (Seoul and Busan).
Anupama Sekhar (Deputy Director, Culture Department, Asia-Europe Foundation [ASEF])
Anupama Sekhar is Deputy Director of ASEF, which promotes greater cultural co-operation between 49 countries across two continents. She has previously worked in the arts sector in India and with the United Nations. She is the editor of Managing Heritage Cities: the Role of Public-Private Partnerships, Good Practices from Asia and Europe, and co-editor of Mapping Cultural Diversity: Good Practices from Around the Globe. She is a trained dancer in the Indian classical style of Bharatnatyam. Anupama is also an editor and author with two published titles.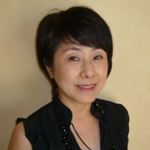 Atsuko Hisano (Program Director, The Saison Foundation)
In charge of planning and administration of the foundation's grant programs for contemporary theatre and dance as well as design and management of its sponsorship programs. In 2011, she launched "Visiting Fellow," a residence program for artists and arts managers building on her reflection on supporting schemes for development of new infrastructures, discovery of new talents and personnel training.
Session 2
Round Table: Case Study on International Co-Production
A Japan-Korea-UK Co-Production, ONE DAY, MAYBE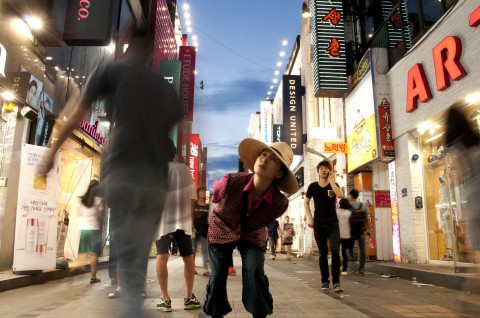 The Japan-Korea-UK co-production ONE DAY, MAYBE, which was presented in three cities in Korea and Japan from September to December 2013 after a three-year process, involved researches in each city as well as residence creation and rehearsals in Gwangju in August, Kochi in October and Kanazawa in November 2013 (the performance in Kanazawa was supported by the Agency for Cultural Affairs as an AIR project). Taking this project as an example, the co-producers of the production discuss with participants the tasks and outcomes that they became aware of through the practice as well as the meanings of international co-productions.
*With English-Japanese consecutive interpretation
Speakers: Choi Seok Kyu (Producer, AsiaNow), Park Jisun (Producer, AsiaNow), Naoyoshi Fujita (Director, The Museum of Art, Kochi), Hisako Yamaura (Producer, The Museum of Art, Kochi), Yasuyo Kondo (Chief Program Coordinator, 21st Century Museum of Contemporary Art, Kanazawa), Yuko Kuroda (Program Coordinator, 21st Century Museum of Contemporary Art, Kanazawa)
ONE DAY, MAYBE
A site-responsive performance conceived and directed by Tristan Sharps, the artistic director of the British company dreamthinkspeak. Produced by The Museum of Art, Kochi, 21st Century Museum of Contemporary Art, Kanazawa, Institute of Asian Cultural Development (Gwangju, Korea) and AsiaNow, the work was presented in the three cities: Gwangju, Kochi and Kanazawa. Three years since the project was launched, the locations of the performances were an abandoned girls' high school in Gwangju, the museum in Kochi in the night and a vacant lot in Kanazawa. It was realized as a unique collaboration between Japanese and Korean auditioned performers and staff from the three countries.
Session 3
Asian Artists' Ideas of AIR
AIR has been developing into diverse forms in Asia, and their purposes are not only creation and expansion of activities. Having the Director of Paper Moon Puppet Theatre from Indonesia, which has built their own base for AIR and invited national and international artists to stay there, as well as other artists and arts manager from Asia, we explore possiblity of AIR in Asia from artists' points of view./p>
*With English-Japanese simultaneous interpretation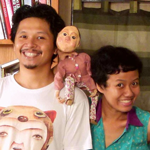 Maria Tri Sulistyani "RIA" and Iwan Effendi (Artistic Directors, Papermoon Puppet Theatre)
Indonesia's Papermoon Puppet Theatre has transformed puppets the way graphic novels changed comics: Taking a popular form too often dismissed as child's play and making it intellectually challenging, emotionally chilling, and visually bold. Drawing on the hip, youthful vibe of Indonesia's preeminent college town and arts hotspot Yogyakarta, the company uses the whimsy and seeming innocence of beautiful puppets to speak about many things, from people's history on theatre stage, to an interactive site specific performance. They travel from New York to Iowa, from Amsterdam to Raja Ampat – Papua, Japan to Singapore, to communicate with people through their puppets.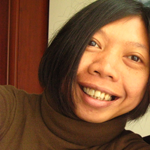 Helly Minarti (Head of Program, Jakarta Arts Council)
Helly Minarti is currently the Head of Program for the Jakarta Arts Council, a public organisation set up in 1968 to be the Consultancy Board for the Governor. She is part of the 25 Council's members comprising artists, arts managers and arts activists elected to run the organisation for the period of 2013-2015 with the main vision to co-design Jakarta as a destination for arts and cultural activities through curation for the City Arts Centre (TIM) and beyond. She just completed her doctoral in dance studies at the University of Roehampton (UK) and have been consultant for various arts and cultural organisations since 2008. In November 2013, she decided to be the Producer for Fitri Setyaningsih, a choreographer from Indonesia. She also co-curates the Indonesian Dance Festival 2014 (early November) and trains herself to be a dance dramaturge.