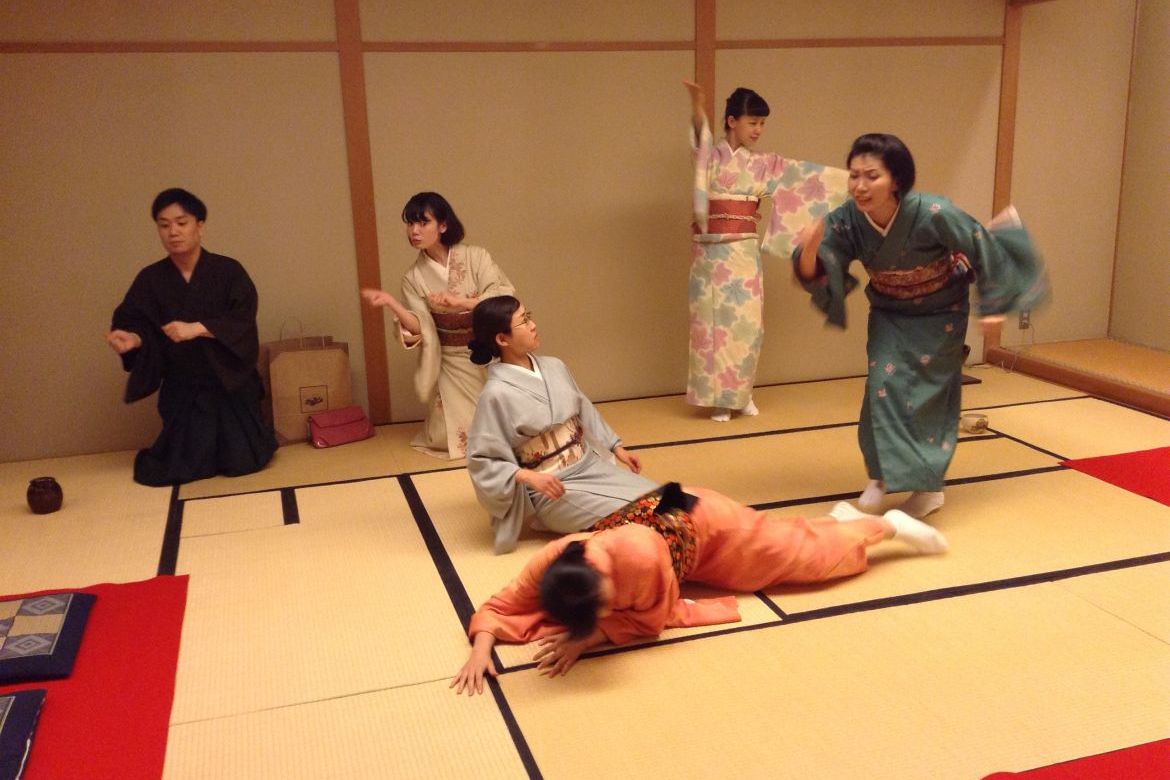 お点前ちょうだいいたします
Otemae Choudai Itashimasu (Thank You for Making Tea)
東京タンバリン
Tokyo Tanbarin
2.16 Fri

19:00

2.17 Sat

11:00 / 14:30 / 18:00

2.18 Sun

11:00 / 14:00

上演時間

Run Time

50 min

*終演後、お茶と和菓子を楽しむ時間あり(約20分)

*There will be a time to enjoy some tea and Japanese sweets after the performance (approx. 20 min).
一般 ¥3,000

着物割引(当日和服でご来場のお客様 *当日受付で確認) ¥2,000

TPAM参加登録者特典:¥1,000割引

General ¥3,000

Kimono discount (Audience wearing kimono) ¥2,000

TPAM Registrant Benefit: ¥1,000 discount

日本語(英文要約配布有り)

Japanese (English synopsis provided)
物語:スミレの母の命日のころ。かつて教え子だったユリたちは毎年集まり、お茶会を開く。今年で5回目を迎えるのだが・・・「東京タンバリン」の企画ユニット。和の輪。和をモチーフに輪を広げていこうという企画です。「着物を着る機会がない」「着物に興味があるけどわからない」といった方に気軽に着物を着て外出してもらい、和の世界を楽しんでもらいたい。演劇と着物と茶道のささやかなコラボです。
詳細・お問い合わせ
http://tanbarin.sunnyday.jp/
090-3543-7800
tokyotanbarin@gmail.com
The story: It's the anniversary of the passing of Sumire's mother. Her former students, Yuri and others, gather every year to hold a tea ceremony in her honor. This year will be the fifth, but… Wa no Wa: Circle of Harmony. The aim of Tokyo Tanbarin is to widen our circle, with harmony as our motif. There seem to be a lot of people who "want to wear kimono but don't have the opportunity" or are "interested in kimonos but don't know enough." We would love to invite them to casually don a kimono and come out to enjoy our world of harmony.
More information / Contact
http://tanbarin.sunnyday.jp/
090-3543-7800
tokyotanbarin@gmail.com
東京タンバリン
Tokyo Tanbarin
高井浩子:東京生まれ。人間の「心の闇」「負の部分」を日常会話の中にさらりと描き出す作風が評価されている。劇団以外の活動として、ラジオドラマや映画脚本の執筆、またアジア女性舞台芸術会議実行委員会のメンバーで、アジア諸国のアーティストと交流し作品づくりやネットワーク形成を行っている。「わのわ」は「東京タンバリン」の企画ユニット。
Hiroko Takai, playwright & director. Born in Tokyo, Her work is recognized for a simple portrayal of people's "darkness in the heart" and "an element of defeat" through day-to-day conversations. Beyond her activities with her company, she writes scripts for radio dramas and movies. She is a member of the Executive Committee of the Asian Women Performing Arts Collective, through which she collaborates with artists from around Asia to create new plays and builds a network for women artists.