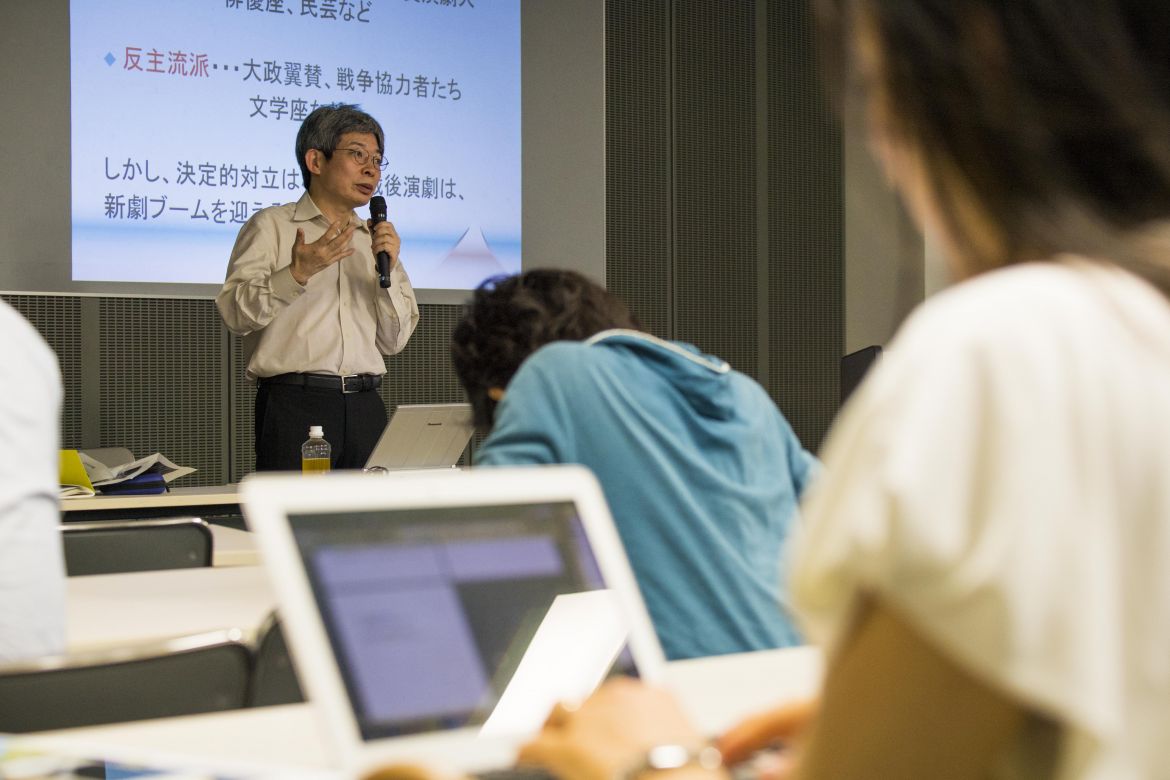 光速・日本近代演劇史
History of Japanese Modern Theatre at the Speed of Light
平田オリザ
Oriza Hirata
2.17 Sat

19:00 - 20:30

上演時間

Run Time
プロフェッショナル ¥0(予約不要)

オーディエンス ¥500(当日)

Professional ¥0 (reservation not required)

Audience ¥500 (at door)

日本語(英語通訳あり)

Japanese with English interpretation
日本の近代演劇は、西洋からの輸入によって始まった。それは音楽や美術、あるいは文学の「輸入」に比べても、いささか遅く、1920年代に本格化した。そこまでの輸入の経緯と、その「遅さ」の影響を分析しながら、日本の現代演劇までの系譜を説明する。さらに1990年代以降に登場した現代口語演劇の特徴を紹介し、それが日本の演劇史の中でどのような意味をなすのかを自己分析する。
Japanese modern theater began with the import from the West. It was somewhat late compared to import of music, art, or literature. It became prevalent in the 1920s. Oriza Hirata will explain the genealogies up to the contemporary theater of Japan while analyzing the history of import and the influence of that "lag." Furthermore, he introduces the features of contemporary colloquial theater that appeared after the 1990's and self-analyze what it means in Japanese theater history.
平田オリザ
Oriza Hirata
1962年東京生まれ。劇作家、演出家。城崎国際アートセンター芸術監督、こまばアゴラ劇場芸術総監督。劇団「青年団」主宰。大阪大学特任教授、東京藝術大学特任教授ほか。1982年大学在学中に劇団結成。「現代口語演劇理論」を提唱し、90年代以降の演劇に大きな影響を与える。1995年『東京ノート』で第39回岸田國士戯曲賞受賞。2011年フランス国文化省より芸術文化勲章シュヴァリエ受勲。
Born in Tokyo in 1962. Playwright and director. The artistic director of Kinosaki International Arts Center and Komaba Agora Theater. The leader of theatre company "Seinendan." Teaches as a specially appointed professor at Osaka University, Tokyo University of the Arts, etc. Formed his company in 1982, when he was a university student, and his "contemporary colloquial theatre theory" has influenced the Japanese theatre since the 1990s. In 1995, he received the 39th Kishida Kunio Drama Award for his Tokyo Notes. In 2011, he was awarded the L'Ordre des Arts et des Lettres of the French Ministry of Culture.