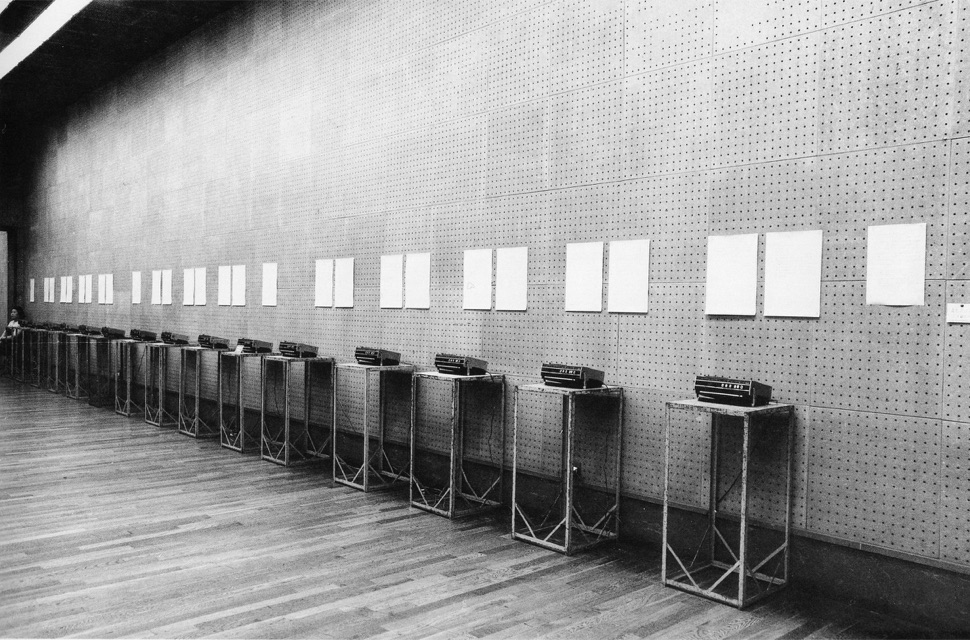 A. 髙見澤文雄《柵を越えた羊の数》(1974年)再制作|B. 「日本美術サウンドアーカイヴ」プレゼンテーション
A. Fumio Takamizawa, "Number of Sheep Who Jumped over the Fence" (1974) Reproduction | B. The Presentation of the Japanese Art Sound Archive
日本美術サウンドアーカイヴ
Japanese Art Sound Archive
2.11 Sun

12:00 - 20:00 A

2.13 Tue

12:00 - 20:00 A

2.14 Wed

12:00 - 20:00 A

2.15 Thu

12:00 - 20:00 A

2.16 Fri

12:00 - 20:00 A / 20:00 - 21:30 B

2.17 Sat

12:00 - 17:00 A

上演時間

Run Time
B.「日本美術サウンドアーカイヴ」プレゼンテーションの予約は、以下のメールアドレスに直接お問い合わせください。
日本美術サウンドアーカイヴによる3回目の企画となる本展覧会は、高見沢文雄《柵を越えた羊の数》を中心に取りあげる。本作品は1974年に発表され、この展覧会のために作家本人によって再制作された。2月16日夜は同会場で、共同主催者の金子智太郎と畠中実による、日本美術サウンドアーカイヴの趣旨や企画を紹介するプレゼンテーションを開催する。
詳細・お問い合わせ
https://tomotarokaneko.com/ projects/jasa/
03-6434-7547
info@cococara-minamiaoyama.com
本プロジェクトは科学研究費(基盤研究C)「日本におけるサウンド・アートの成立過程の調査」(課題番号15K02101)の助成を受けた研究成果の一部です。
This exhibition is the 3rd program of the Japanese Art Sound Archive and focuses mainly on Number of Sheep Who Jumped over the Fence by Fumio Takamizawa. It was originally presented in 1974, and it was reproduced by the artist himself for this exhibition. On the evening of February 16 at the same venue, organizers Tomotaro Kaneko and Minoru Hatanaka will deliver a presentation including archival video footage to introduce the aims and programs of the Japanese Art Sound Archive.
More information / Contact
https://tomotarokaneko.com/ projects/jasa/
03-6434-7547
info@cococara-minamiaoyama.com
日本美術サウンドアーカイヴ
Japanese Art Sound Archive
日本にはこれまでに、美術館や画廊、アトリエや公共空間でさまざまな音を鳴り響かせてきた美術家がいる。日本美術サウンドアーカイヴはこうした美術家たちによる参照しにくい過去の音にアクセスしようとするプロジェクトである。金子智太郎(東京藝術大学非常勤講師)と畠中実(ICC主任学芸員)が共同主催。2018年1月より、1970年代の作品に焦点をあてたイベントや展覧会を継続的に開催する。
Throughout the history of Japanese art, there have been artists that filled museums, galleries, studios and other public spaces with all sorts of sounds. The Japanese Art Sound Archive is a project that aims to collect those often inaccessible sound activities of the past and make them more accessible for reference. The organizers are Tomotaro Kaneko (Tokyo University of the Arts) and Minoru Hatanaka (ICC). From January 2018, the project will be holding events and exhibitions focusing on works from the 1970s.