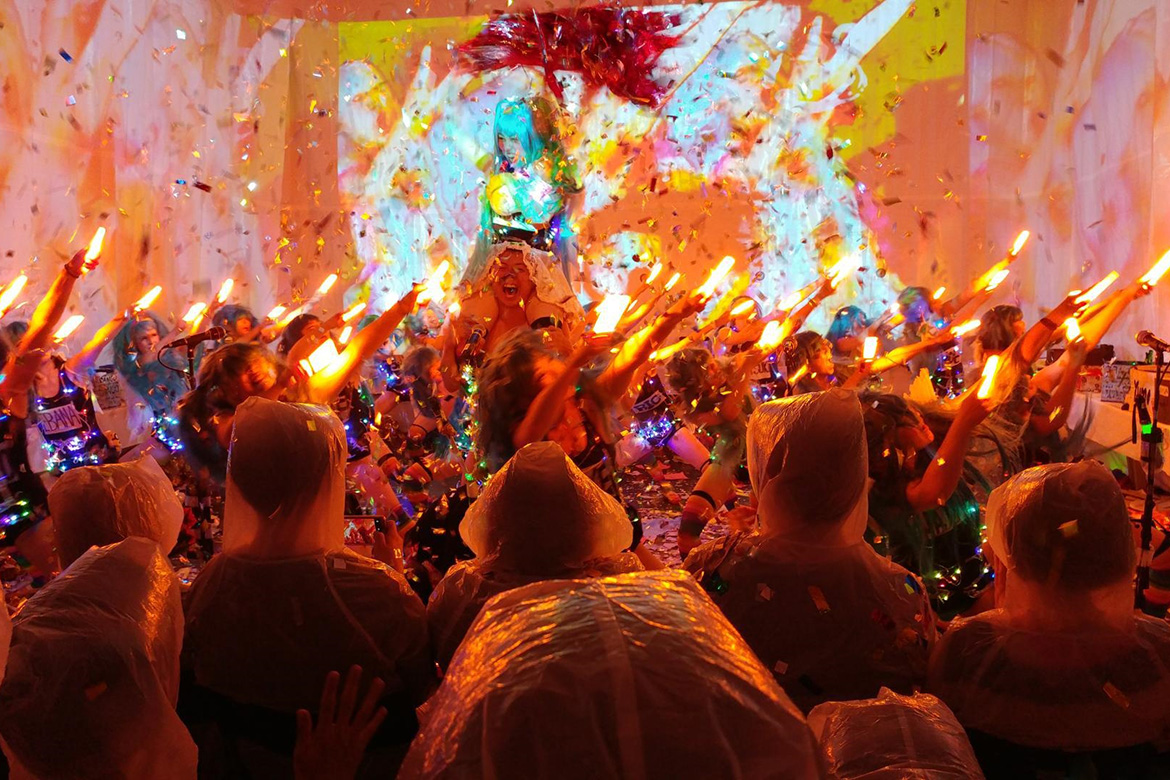 萌え萌え❤︎ハリケーン
Totes Adorbs❤Hurricane
革命アイドル暴走ちゃん
Miss Revolutionary Idol Berserker
2.15 Thu

19:30

2.16 Fri

17:00 / 19:30

2.17 Sat

17:00 / 19:30

2.18 Sun

17:00

上演時間

Run Time

30 min
当日 一般 ¥3,800

事前入金割引 ¥3,300

高校生以下 ¥1,800

TPAM参加登録者特典:¥3,000

Door General ¥3,800

Early deposit discount ¥3,300

High school and below ¥1,800

TPAM Registrant Benefit: ¥3,000
圧倒的な熱量と聴衆を飽きさせまいとする過剰なショー、日本のサブカルチャーやアニメソング、アイドルソングが轟音で鳴り響く中…散布する紙吹雪!!想像を絶する物量の小道具!!そしてサイリウムが輝く小宇宙へ!!!圧倒的な運動量を通じてそれでも立ち上がってくるセーラー服(からのスクール水着)姿の全力限界突破したパフォーマー達の驚くべき肉体を刮目せよ。
詳細・お問い合わせ
http://missrevodolbbbbbbbberserker.asia
contact@missrevodolbbbbbbbberserker.asia
A spectacle of excess that overwhelms the audience with boundless energy. The venue is booming with anime songs, idols songs, and other sounds of Japanese subculture. Confetti scatters everywhere! More props than you could ever imagine!! A little universe, lit up with glow sticks!!! Despite intense physical exertion, these performers dressed in sailor suits (and later school swimming suits) always get right back up. Take a good look at how these astounding performers push themselves beyond the limits of the flesh.
More information / Contact
http://missrevodolbbbbbbbberserker.asia
contact@missrevodolbbbbbbbberserker.asia
革命アイドル暴走ちゃん
Miss Revolutionary Idol Berserker
2013年4月に演出家・振付家の二階堂瞳子が旗揚げ。同年8月にスイス・オランダ・ドイツから招聘を受け、ヨーロッパツアーにて活動を開始。現在までに、年に1〜2回のペースで海外ツアーを成功させている。国内では公演の他、小学生から40代を含むWSや、高校生を対象にしたWSなどの活動を行い、高校生をスタッフとして受け入れるなどの教育活動も精力的に行っている。
Founded in April 2013 by director and choreographer Nikaido Toco. In August of that same year, began a European tour after receiving invitations to perform in Switzerland, Holland, and Germany. Since then, they have conducted 1-2 international tours a year. In Japan, in addition to performances they also conduct workshops with participants ranging from elementary school students to adults in their 40s. They have also conducted workshops for high school students, and they are actively engaged in arts education by recruiting high schoolers as staff.