Rully Shabara
Yogjakarta's Senyawa uniquely manage to embody the aural flavours of Javanese music whilst exploring the framework of experimental music practice, pushing the boundaries of both traditions. In doing so their music strikes a perfect balance between their avant-garde influences and cultural heritage to create truly contemporary Indonesian music. Their sound is comprised of Rully Shabara's deft extended vocal techniques punctuating the frenetic neo-tribalism of instrument builder, Wukir Suryadi's modern-primitive instrumentation. Inventions like his handcrafted 'Bamboo Spear'; a thick stem of bamboo strung up with percussive strips of the plant's skin along side steel strings. Sonically dynamic, the instrument can be rhythmically percussive on one side whilst being melodically bowed and plucked on the other.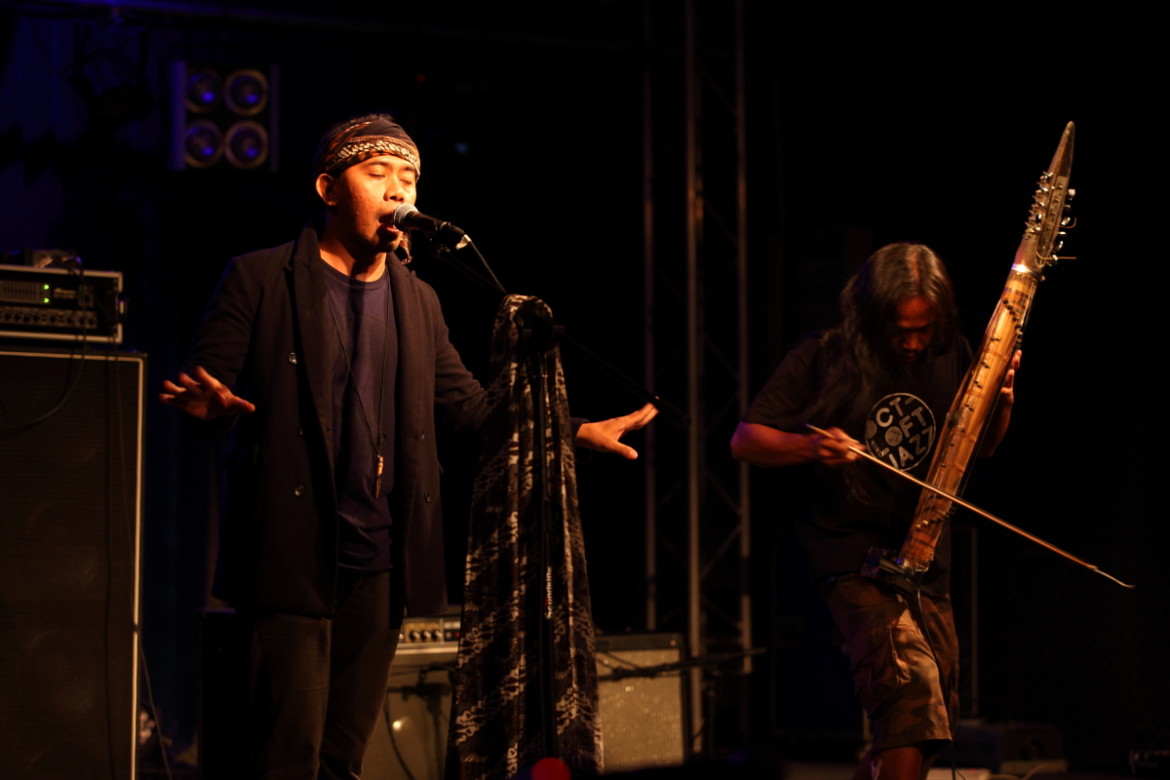 Photo: Tony Yang
Date

2014/11/10 Mon

City

Yogyakarta

Place

Wukir's house (Senyawa Studio)

Notes

Wukir Suryadi

A member of Senyawa with Rully.

Tatsuya Yoshida

Drummer and composer who is the only consistent member of the renowned progressive rock duo Ruins, as well as Koenji Hyakkei.

John Zorn

John Zorn (born 1953) is an American avant-garde composer, arranger, producer, saxophonist and multi-instrumentalist.

Melt Banana

Japanese Rock Band.

Yes No Wave/Wok The Rock

Wok The Rock is a founder of "Yes No Wave", an internet label in Yogyakarta.

Yusuke Akai

Japanese musician, guiterist who live in Brisbane, Australia.

Melbourne Jazz Festival

One of Biggest Jazz Festival in Melbourne, Australia.

The Volcanic Winds Project

Art Collective leaded by Kristi Monfries, an independent art producer, curator in Yogyakarta.

Hurdy-Gurdy

A stringed instrument that produces sound by a crank-turned, rosined wheel rubbing against the strings.

Interviewer

Yuya Tsukahara

2002 start working as a volunterr staff at the Dance Box and has later joined the administration team. 2006 founded "contact Gonzo" start producing performance, video, photo, sound works, magazine editorials. Now also directing festivals and performance programs for theaters and art museums. His solo project will be announced on 2015.

Videographer/Editor

Takuya Matsumi

Born in 1986. Graduated from Kyoto Seika University Department of Visual Design. Joined the performance group Contact Gonzo in 2010. IN the same year he co-founded The Hanzai (Crime) Boys together with NAZE. Mistime has been working as a freelance designer and photographer since student.
Interviews