Nadhirah Razid
Nurul Nadhirah Binti Mohd Razid was born in 1991. She holds a Diploma in Dance and is currently a final-year choreography major at ASWARA. In this time, she has choreographed and presented many contemporary works such as Question Mark, Do I?, Sampaikan, Madu among others, to emerge as one of Malaysia's most exciting young choreographers. She has performed extensively, primarily in traditional dance genres in productions such as Main Zapin, Tapestry, Asyik, as well as presented and performed at the Short + Short Dance Festival, K.I.V and 2 by 2. She has performed abroad in China and Singapore.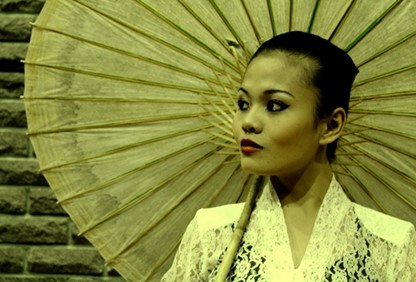 Photo: Normalrizwan Kamaduddin
Date

2014/12/2 Tue

City

Kuala Lumpur

Place

ASWARA

Notes

Kakiseni International Arts Festival

The annual arts festival held in Kuala Lumpur, organized by Kakiseni; an NPO dedicated in developing the Malaysian performing arts industry.

Joget

A traditional Malay dance that originated in Malacca. One of the most popular folk dances in Indonesia & Malaysia and normally performed by couples in cultural festivals, weddings and other social functions.

Zapin

A Malay dance form. In the old days, only males were allowed to perform; nowadays, female dancers are included.

Inang

A traditional Malay dance that originated from the time of Malacca Sultanate. Usually performed in social functions like wedding receptions.

Tari Piring

Tari Piring is a form of plate-dancing from West Sumatra. Dancers hold the bottom of plates in the palm of their hands and swing them wildly using the inertia to keep the plate from falling.

ASWARA

National Academy of Arts Culture and Heritage Malaysia.
NATIONAL ART ACADEMY (ASK) was set up in 1994 under Ministry of Cultural, Art and Tourism Malaysia. ASWARA is the only higher learning institution in performing area which is fully supported by Malaysian Government under the Ministry of Unity, Cultural, Art and Heritage Malaysia. Joseph Gonzales is a founder and an artistic director of ASWARA Dance Company.

Short+Sweet Malaysia

A multi-form arts platform presenting festivals in theatre, dance, music-theatre, comedy and cabaret across Australia and Asia.

Silat

A collective word for indigenous martial arts from a geo-cultural area of Southeast Asia encompassing most of the Indonesian Archipelago, the Melayu of Indonesia and part of Melayu (Malay Peninsula), and the entirety of the Nusantara (South East Asia).

Interviewer

Yoshiro Hatori

Born in Brussels in 1989. Director and Founder of Kenobi, and director of "The Useful Program" (Kyoto International Performing Arts Festival – KYOTO EXPERIMENT, 2013 and 2014). He produced "trying" and "teaching" which can be said to be artistic direction in an expanded sense, for a workshop《Self-Government》 and ate rice with stones as a side dish in 《Side-Dish Stone》. He published Directions and Instructions – The However Goods in 2012.

Videographer/Editor

Satoshi Nishizawa

Photographer and filmmaker. Uses cameras to record the daily lives of individuals, turning his attention even to the social and economic factors that are revealed in the images, eroding daily life whether willingly or not. Major exhibitions include "Satoshi Nishizawa: Hardcore of Documentary" (2011, Sanagi Fine Arts, Tokyo) and "Romantic Geography" (2014, TKG+, Taipei). Main screenings include "Tuesday Classes – Satoshi Nishizawa's Hyakko (Hundred Lights)" (2013, Rikkyo University), and "Shingo Kanagawa – 'Father'" (2015, Contemporary Art Museum, Kumamoto).
Interviews