Fitri Setyaningsih
Fitri graduated from one of the national arts academies, known as the Institute of the Arts in Indonesia in Surakarta, Central Java. She firstly trained in Javanese dances but later develops a body of eclectic works that critically questions the body in contemporary dance since 2000. She now moves seamlessly between dance, visual- and performance arts, boldly stating that "dance is not only an event of movement, but moving towards becoming a medial event with the body remains at its central axis". With this idea, Fitri integrates daily life movement and objects. She has been awarded as one of the influential artists in Indonesia by TEMPO weekly newsmagazine in 2011 and a recipient of Empowering Women Artists commission from Kelola Foundation which enabled her to create two choreographies in two consecutive years. One of this work, Bintang Hening (A Tranquil Star, 2011) toured to Europe in Fall 2014 and she just completed a commissioned work from the Asian Arts Theatre (AAT), Gwangju.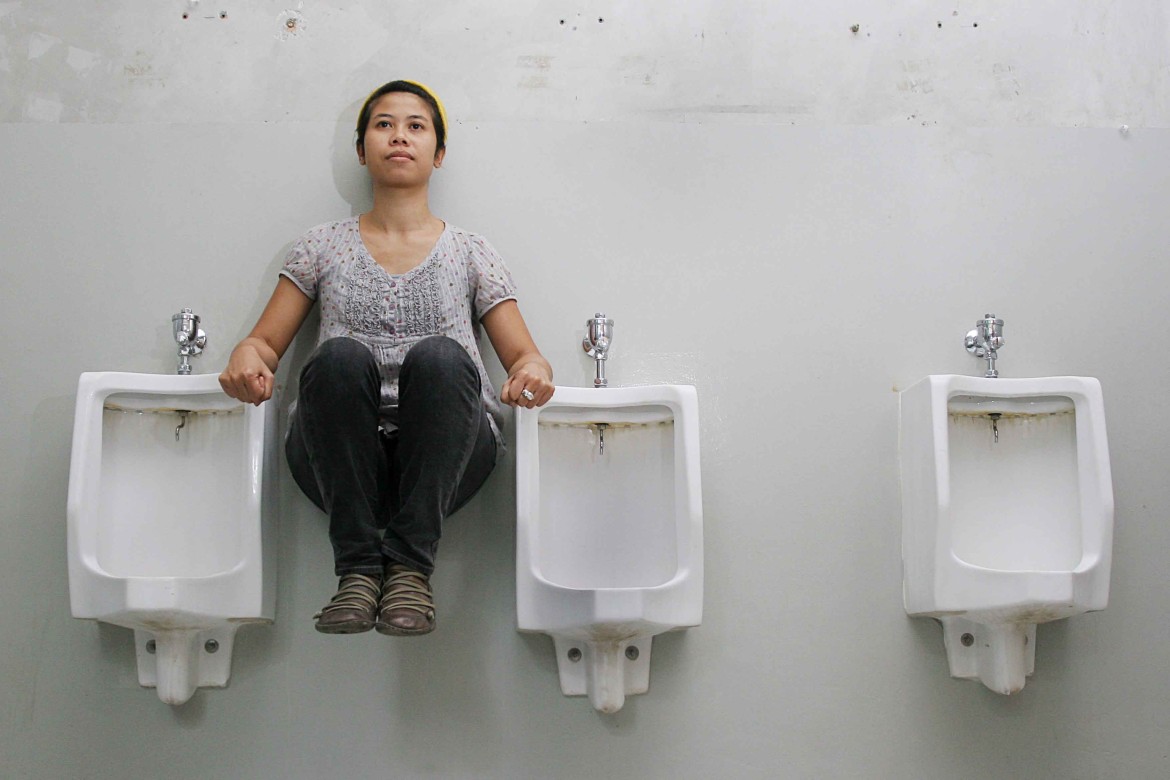 Photo: Jacky Armansyah
Date

2014/11/11 Tue

City

Yogyakarta

Place

Fitri's house

Notes

Solo

Solo is a city in Central Java, often called Surakarta. As the center of Javanese courtly culture, Surakarta is the center of royal Javanese dances.

ISI (Institute Seni Indonesia)

ISI is an arts university in Surakarta, Indonesia.

SMKI (Sekolah Menengah Karawitan Indonesia)

Specialized upper secondary schools for Music and Arts.

Surakarta dance

Several Surakarta dances are characterized with its slow, constrained and refined movements, as the epitome of gracefulness.

Sundanese dance

Sundanese dance is a dance tradition that is a part of ritual, artistic expression as well as entertainment and social conduct among the Sundanese people of West Java, Indonesia.

Balinese dance

Balinese dance is a very ancient dance tradition that is a part of the religious and artistic expression among the Balinese people, native to Bali island, Indonesia.

Banyuwangi dance

Banyuwangi-typical dance which performed by a woman and along with simple music like violin, triangle (called kluncing), gong (or kempul), kendhang and sometimes with keyboard as result of modern influence.

Yogyakarta

is a city and the capital of Yogyakarta Special Region in Java, Indonesia. It is renowned as a center of education (Kota Pelajar), classical Javanese fine art and culture such as batik, ballet, drama, music, poetry, and puppet shows.

Kelola Foundation

As a national non-profit organization established in 1999 to enhance and promote the vitality of Indonesian arts, Kelola works directly with Indonesian arts practitioners, across nationwide communities, in response to the needs by providing access to learning opportunities, funding, and information.

Interviewer

Yuya Tsukahara

2002 start working as a volunterr staff at the Dance Box and has later joined the administration team. 2006 founded "contact Gonzo" start producing performance, video, photo, sound works, magazine editorials. Now also directing festivals and performance programs for theaters and art museums. His solo project will be announced on 2015.

Videographer/Editor

Takuya Matsumi

Born in 1986. Graduated from Kyoto Seika University Department of Visual Design. Joined the performance group Contact Gonzo in 2010. IN the same year he co-founded The Hanzai (Crime) Boys together with NAZE. Mistime has been working as a freelance designer and photographer since student.
Interviews