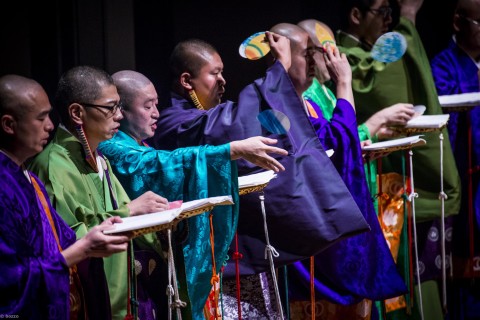 Buddhist Ritual Chant – The 800th Year Anniversary of Myoe-shonin "Shiza Koshiki" (Spiral Shomyo Concert Series vol.23)

2.14 Sat16:00 "Nehan Koshiki"
19:00 "Rakan Koshiki" "Iseki Koshiki"
2.15 Sun16:00 "Toneri Koshiki"
Adv ¥4,300
Door¥4,500
Through ticket for the three shows ¥10,000 (reservation required)
TPAM Registrant Benefit: ¥3,800
• "Presenter" of performing arts (Registration for TPAM is required)
• "Audience" of performing arts
Available from the company
Estimated running time: 110min
"Sho-myo" is vocal music recited by monks in Japanese Buddhist temple.
On February 15th in 1216 "Nehan-e" was held by Myoe-shonin (the Saint of Myoue). At the event, "Shiza Koshiki" that is often said to be the origin of Japanese traditional epic narrative performance such as Jyoururi or Heikyoku, was performed. Myoe-shonin (the Saint of Myoue), known as the writer of Mugen-ki, tried to go to India twice but could never reach there. The legendary Myoue will be featured in this show and we will present "Shiza-koushiki" with genuine respect for Buddha.
*Shiza Koshiki (Four Scriptures)
A chant created by the priest Myoe-shonin in the Kamakura period (13th century) consisting of four formulas:
Nehan Koshiki (Nirvana): narrates the last moments of Buddha before his death under the Sal Tree.
Rakan Koshiki (Disciples): narrates the stories of the twelve disciples to maintain the teachings of Buddha;
Iseki Koshiki (Lerics): narrates the stories of those who visited the relics of Buddha such as the Linden Tree;
Shari Koshiki (Ashes): tells about the virtues of Buddha's ashes for the teachings of Buddhism.
The "koshiki" are scriptures in Japanese and are the roots of Japanese recitation story telling.
Contact: 03-3275-0220 (Kaibunsha), 03-3498-1171 (Spiral) /
Email (Kaibunsha)
This critically acclaimed group is comprised of priests from two of Japan's major Buddhist sects, the Shingon and Tendai sects. The group was first formed under the name "Shomyo Yonin no Kai" ("A Shomyo Group of Four") in 1997 by Revs. Kojima Yusho and Arai Kojun of the Shingon sect; and Revs. Ebihara Koshin and Jiko Kyoto of the Tendai sect, with the mission to preserve and develop the Buddhist chanting ritual known as shomyo. The group launched its regular performance series Voices of a Thousand Years Shomyo Concert Series at Spiral Hall in Tokyo in 1998 with Tamura Hiromi of the National Theatre of Japan as Director and Hanamitsu Junko of NPO Kaibunsha as Producer. The group officially changed its name in 2003 to "Shomyo no Kai, Voices of a Thousand Years" as more than 30 younger priests joined and continued to develop their skills. The group actively explores the possibilities of the vocal art form and endeavours to introduce this music to general audiences through the presentation of traditional shomyo performances; as well as commissioning leading Japanese composers to create new shomyo works. Such commissions include: Takahashi Yuji's "Ooinaru Shi no Monogatari", Kikkawa Kasuo's "Rongi Vegetarian Taisai", and Terashima Rikuya's "Muichimotsu no Sho-Ryokan ni Yosete", to name a few. Shomyo no Kai-Voices of a Thousand Years has released CDs of A UN and Sonbou no Toki (Life in Autumn), two compositions by Torikai Ushio, produced by the Japan Traditional Cultures Foundation. In 2014, the group went on a U.S. tour to present Sonbou no Toko, written in reflection of the events of 9/11, for the first time in New York, and at the John F. Kennedy Centre.