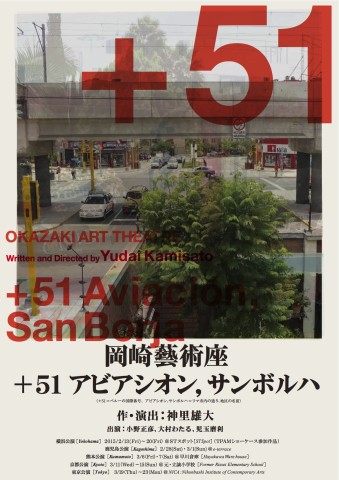 +51 Aviación, San Borja

2.13 Fri19:30
2.14 Sat14:00/19:00
2.15 Sun14:00/19:00
2.16 Mon19:30
2.18 Wed14:00/19:30
2.19 Thu19:30
2.20 Fri17:00
Adv¥2,800
Door¥3,100
Student Adv¥2,500
Student Door¥2,800
Under 18Admission Free
TPAM Registrant Benefit:Adv & Door ¥2,500
• "Presenter" of performing arts (Registration for TPAM is required)
• "Audience" of performing arts
Available from the company
Subtitled in English
Yudai Kamisato continues to create works that reflect his attitudes towards politics and society and question how people can coexist with Others that they cannot understand. Following in the footsteps of his grandparents, who emigrated from Okinawa to Peru, Kamisato researched the current situations of South America and Okinawa for his new creation.
He studied the life of the "father of Mexican Theatre," Seki Sano, who was active before the war in Japan and fled to Mexico later, and encountered Ryoichi Jinnai, an entrepreneur who, although longing to immigrate, has chosen to stay in Japan while supporting the community of people of Japanese descent in Peru and other countries of South America. This piece explores the concept of "homeland" through the stories of people who emigrated to foreign countries in the past and died overseas, and the stories of people currently living in foreign lands. This perspective of an observer also informs us about ourselves, living in contemporary Japanese society.
Established in 2003 to present works both original and existing works under the direction of Yudai Kamisato. Kamisato was born in Peru and raised in Kawasaki. His works examine people's attitudes to politics and society, and portray the coexistence of people who cannot understand one another; highlighted by the unique presence of each of the characters on stage. Okazaki Art Theatre participated in FESTIVAL/TOKYO for three years in a row from 2010 to 2012. In 2012 Kamisato was officially invited to the Taipei Arts Festival to create his first overseas performance. As a playwright, Kamisato's works Haircut-san (2009) and black coffee (not for drink) (2013) were both nominated for the Kishida Kunio Drama Award.