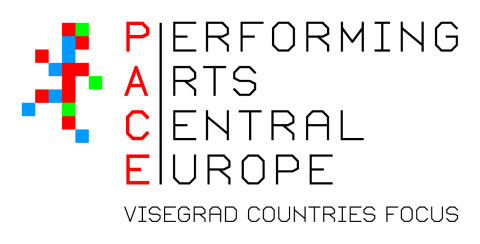 Keep PACE with Japan is an continuation of the PACE V4 project which has been in process for several years now, and aims to present contemporary performing arts of the Central European countries (Slovakia, Czech Republic, Poland and Hungary).
The main idea of PACE is to present performing arts in V4 countries, not only by producing performances by selected ensembles from the Czech Republic, Slovakia, Hungary, and Poland, but also by running lecture series, stage readings, small music events and so on. Looking back at the four presentations on the various types of events, it seems that this ambitious goal has been achieved. Not only that, we are continuing with new forms of presentation and new cooperative projects. Slovak dance and physical theater will represent the leading figures of the scene in Slovakia. The Czech theatrical and dancing art will be presented by representatives of drama, music, dance and physical theater.
Our goal is to establish cooperation through Japanese-European meeting, to deepen and broaden our shared experience, as well as to raise awareness of the Central European and Japanese contemporary performing arts.
Organized by: Theatre Institue Bratislava (Slovakia), Art and Theatre Institute Praha (Czech Republic)
Contact:
The Art and Theatre Institute Prague info@idu.cz
The Theatre Institute Bratislava du@thatre.sk
Artists / Presenters
Šárka Ondrišová
Šárka Ondrišová literally lives for dance every day at the elledanse Dance and Theatre school, which she founded in 2007. She is its artistic director and leading personality of the only permanent stage for contemporary dance in Slovakia. She has been its choreographer and co-producer of many successful dance pieces, including: Canto Hondo – a profound song about her…, (she won DOSKY 2008 – theatrical prize for best performance, best direction and best music, as well as the Slovak Minister of Culture's prize).
Radoslav Piovarči
Dancer, choreographer and director. He cooperates with many dancers, teachers and choreographers all over Europe in last five years – Staatstheater Kassel in Germany, Total Brutal Company, Theatre elledanse Slovakia, Veronika Riz Bolzano, Lenka Vagnerova & Company, VerTeDance Company, Teater Viirus.  He is a dancer and choreographer at Theatre elledanse, he leads workshops of contemporary dance techniques in Company elledanse. He created two pieces – Hold Your Breath  (2012) , SET UP (2013).
Petra Fornayová
She studied dance at the Academy of Performing Arts in Bratislava and at the EDDC Düsseldorf. Except for different courses she participated regularly at the MAPA workshops (Moving academy for performing arts, Holland). She performed in many dance and theatre projects of Slovak and foreign directors and choreographers. Since 2000, she has created her own choreographies (Halfmoon Bear, Kirin, Deep Disorder of Epidermis, All I Love, Objects of Research, etc.). In 2006 she founded the international contemporary dance festival Nu Dance Fest. In her work dominates linking of various art genres, conceptual intention, contextualisation of private spheres in the current artistic and social discourse.
Jakub Hora
Manager, producer and publisher in the field of puppet theatre and animation. After 9 years of cooperation with puppet theatre he moved to field of animated films. He worked as a director of International festival of animated films AniFest, he produced 4 edition of largest festival of animation in Czech Republic. From 2013 he is a head of association Animanie, focusing on education and animated films. From 2013 he started cooperation with scene of contemporerary non – verbal theatre Alfred ve dvore (www.alfredvedvore.cz). From 2015 he is director of one of top puppet theare in Czech Republic, Alfa Theatre Pilsen (www.divadloalfa.cz).
Viliam Dočolomanský
Viliam Dočolomanský is artistic director of Farm in the Cave, International Theatre Studio from Prague. Viliam created all performances of the Studio and lead a number of international projects. He regularly gives workshops and lectures. He has created or co-created music for all of Farm in the Cave's productions. Viliam and Farm in the Cave are holders of numerous international and Czech prizes, among which the most prestigious is the European Prize for New Theatrical Realities for Director Viliam Dočolomanský, who thus became the only Czech recipient of that award. In its more than 12 years of existence, the company has represented the Czech Republic at many prestigious festivals, in more than 55 cities, and on three continents.
Eva Kesslová
Eva Kesselová works as managing director of the BERG Orchestra specialized in presenting contemporary and 20th century music, often in combination with dance, theatre or visual arts and at unusual places (future subway station, old sewage plant, modern art museum etc.). It regularly commissions new works with young Czech composers and presents important works by internationally acclaimed composers in Czech premieres.
Eliška Černá
Eliska Cerna graduated from BA Marketing Communications and Public Relations at Charles University in Prague and is now finishing her MA in Cultural Policy and Management at Sheffield Hallam University. She worked in university media and a non-profit organisation before gaining experience in several Sheffield galleries (Bank Street Arts, Museums Sheffield). She now works as a PR manager for Arts and Theatre Institute, Prague.
Pavla Petrová
Pavla Petrová with her background in economics and management has many years of experience working for large cultural institutions and projects. Since 1992 she has been working for the Ministry of Culture of the Czech Republic– longest as the Director of the Section of Arts and Libraries. She has also acted as the producer manager of the International Festival of New Dance CONFRONTATIONS 2001 and the Central European Dance Platform 2002. Since 2008 she is the Director of the Arts and Theatre Institute in Prague and Director of the world largest event and exhibition Prague Quadrenniel of Performance Design and Space. She has been a member of different expert teams and working groups on culture policy and on mobility of artists.