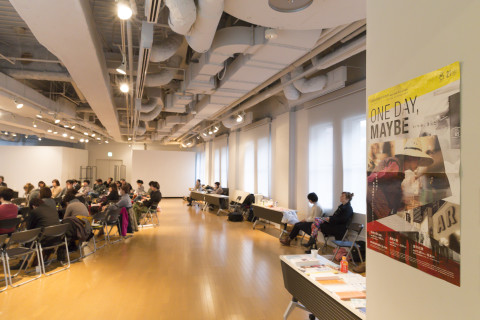 Artist-in-Residence (AIR) programs have developed in the fields of fine art, literature, music, and recently performing arts. While the concepts of"global"and"local"are becoming less and less opposed, it is expected that artists build bases for long-term work beyond regional and national borders, and their will to create has actually been making them move. In addition, the development of diverse art forms require them to overcome pre-existing linguistic borders and to create new languages that are responsive to the contemporary society, which results in the need of time and space for ideas and creation.
Does AIR respond to this need? What are the meanings and tasks that are specific to AIR of performing arts? The 3rd Performing Arts AIR Meeting@TPAM since 2012 is organized as an exchange program in Yokohama where AIR specialists and artists gather from across Japan and the world to build network.
Organized by: Japan Center, Pacific Basin Arts Communication
Co-organaized by: Performing Arts Meeting in Yokohama 2015 Executive Committee
Supported by: The Agency for Cultural Affairs Government of Japan in the fiscal 2014
Contact: PARC – Japan Center, Pacific Basin Arts Communication 03-5724-4660
2.15 Sun 10:00-12:00
BankART Studio NYK 2F
With English-Japanese simultaneous interpretation
Session 1
Residence Program in Asia 1: A Case Study of Residence in Japan
One of the most important feature of AIR is the methodologies of creation through residence in a country or city for a certain period that allows artists to reflect on the issues of the society and reshape the reflection into a piece, and in this year's program of TPAM, indeed, Host and Miniascape were created through the artists' dedicated researches and field works. This session is for discussing the possibility of performing arts AIR in Japan making reference to their experience.
2.15 Sun 13:00-15:00
BankART Studio NYK 2F
With English-Japanese simultaneous interpretation
Session 2
Residence Program in Asia 2: A Case Study from Southeast Asia
With Melati Suryodarmo, the program director of Performance Art Laboratory Project in Padepokan Lemah Putih, Solo, Indonesia, and Arco Renz, who has created a number of works through AIR in Southeast Asia, we discuss issues behind artists' exchange projects.
Arco Renz
Arco Renz works as choreographer, dancer, director, actor and dramaturge. His activities are currently focusing on the field of contemporary dance. He is artistic director of Brussels based dance company Kobalt Works. Since its creation in 2001, Kobalt Works / Arco Renz have created over 25 evening length choreographies in Europe and Asia, as well as numerous commissioned works for Opera Houses and institutional companies around the world.
An important aspect of Arco Renz' activities is his engagement in projects promoting the development of research and exchange between European and Asian artists. Monsoon, a series of research and performance platforms bringing together Asian and European artists is an on-going project with its next edition in Sydney in November 2015.
During 2014 and 2015, Arco Renz is engaged in collaborative performance projects of very different nature in Indonesia KRIS IS, Vietnam Hanoi Stardust, the Philippines COKE, and Thailand / Singapore ALPHA.