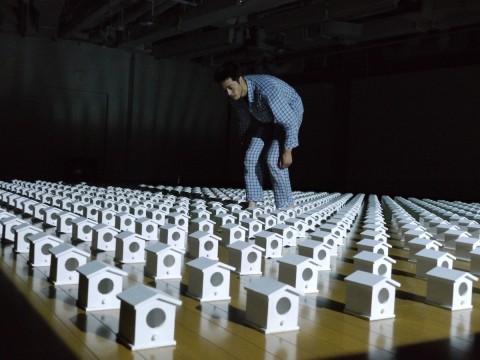 a quiet day
Feb 14 (Thu) 19:30 | 15 (Fri) 19:30 | 16 (Sat) 15:00/19:30 | 17 (Sun) 15:00
Kichijoji Theatre
Adv ¥2,800 | Student ¥2,500 | Door ¥3,200
TPAM Pass benefit⇒A post card

---
The newest piece of Mikuni Yanaihara Project, of which unique verbal drive, vividness and positivity has been highly acknowledged and won the 56th Kishida Kunio Drama Award. Yanaihara has presented six pieces, faithfully to her unique method and creating sensations in the theatre world. Since receiving the Award, she has been reexamining speeches and direction of theatre, and aims to enter on a new phase with this piece.
---
English synopsis provided
Official website
Contact: precog 03-3423-8669 ✉
---
Mikuni Yanaihara Project
A solo project launched by Mikuni Yanaihara, who has worked as leader / choreographer of the dance company "Nibroll," to create "theatre pieces." Boldly framing and sketching daily life that is apparently trivial to create stories, and fusing them with nostalgic homages to old Japanese animations and adolescent love songs with her own lyrics, she has been drawing attention by her method that is consciously "theatrical" while being free from the styles. Her Hey Timon, Let's Think Positive! received the 56th Kishida Kunio Drama Award.