---
TPAM Direction Directors' Talk
Post-performance talks by the three directors, who created the programs of TPAM Direction, temporarily leaving their bases of activities and tackling the framework. What kind of awareness and motivations led them to their programming concepts, and what kind of dialogues did they have with the artists? Inviting Akane Nakamura and Masashi Nomura who also directed the previous TPAM Direction programs as moderators, these sessions discuss each program from the points of view of presenters whose mission is to connect artists and audience, as well as performing arts and society.
---
Feb 14 (Thu)
After ½han PA nai!? Ain't No Plain! by Kunio Sugihara (around 17:00)
Kanagawa Arts Theatre, 5F Main Lobby
Takuo Miyanaga × Akane Nakamura
With Japanese–English interpretation
Takuo Miyanaga (mamagoto / ZuQnz) See this page for profile
Akane Nakamura (Producer / Executive Producer, precog Co., Ltd. / Executive Board, NPO Drifters International)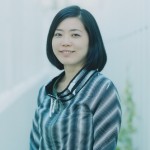 Akane Nakamura
Born in 1979, Akane has been involved in performing arts since she was in Nihon University College of Art. She was the Programme Director of ST Spot Yokohama from 2004 to 2006. In 2006, she founded precog Co., Ltd. and became the Executive Director in 2008. She has produced Azumabashi Dance Crossing, Chelfitsch, Nibroll and Masako Yasumoto since 2004. She has coordinated a outdoor festival Spectacle in the Farm in Nasu Kogen. In October 2009, Akane founded NPO Drifters International, which produces diverse artists in the fields of performing arts, fashion, architecture and graphic design. She opened a free space PUNTO PRECOG in Beppu, Oita in May 2012, and seeks possibility for performing arts in the new place. She worked for the Kunisaki Art Project as performance program director in 2012. She is a part-time lecturer at the Drama Course at Nihon University College of Art since 2011.
---
Feb 15 (Fri)
After WAGASHI — my master, my words, my death, my will by Kakuya Ohashi and Zeitgeber by Takuya Murakawa (around 20:45)
Kanagawa Arts Theatre, Large Studio
Katsuhiro Ohira × Masashi Nomura
With Japanese–English interpretation
Katsuhiro Ohira (Director, ST spot) See this page for profile
Masashi Nomura (Producer, Komaba Agora Theater)
---
Feb 16 (Sat)
After Give by Kitamari / KIKIKIKIKIKI and Where is crocodile? by KODOMOKYOJIN (around 18:40)
Kanagawa Arts Theatre, Middle·Studio
Yukako Ogura × Masashi Nomura
With Japanese–English interpretation
Yukako Ogura (Director, AI.HALL / Itami Culture Foundation) See this page for profile
Masashi Nomura (Producer, Komaba Agora Theater)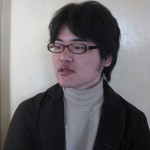 Masashi Nomura
Born in 1978 in Nagano. After working with a theatre company and at a public hall, he has belonged to Komaba Agora Theater and Seinendan since 2007 while playing diverse roles in young artists' works. Among the works he has dramaturged and produced are Our Planet by mamagoto (2009 and 2011), The Treasured Son by Sample (2010 and 2012), Hemispherical Red and Black by Okazaki Art Theatre (2011), The return of the 14-year-olds that restrained themselves (2009), Time by Shuta Hasunuma and Ryota Yamada (TPAM in Yokohama 2012) and Fanfare co-produced by Setagaya Public Theatre, Mie Center for the Arts, The Museum of Art, Kochi and Art Tower Mito (2012). He has also managed "Annual Lecture Series for Artistic Directors and Producers" organized by The Saison Foundation and Komaba Agora Theatre (2010) and is one of the proposers of Performing Arts Presenters' Network Meeting (tentative title), as well as a part-time lecturer at J. F. Oberlin University and a member of the management committee of Asahi Art Square.
---
On the "Creative Europe Program 2014–2020"
---
Feb 14 (Thu) 20:30–22:00
BankART Studio NYK 2F
With Japanese–English interpretation
Part 1 20:30–21:15
Conference "How to empower artistic and cultural cooperation and collaboration between Europe and Asia?"

As a lead to the workshop "The Creative Europe Program 2014–2020: A window for Euro–Asian cooperation and collaboration," two French professionals, Pierre Sauvageot and Agnès Henry, will give this conference. They will talk about why this type of open approach to Japan and Asia is crucial for European performing arts professionals today.
Speakers: Pierre Sauvageot (Composer / Director, Lieux publics* — a National Center of Creation in Marseille), Agnès Henry (Director, Extrapole)
Part 2 21:15–22:00
Workshop "The Creative Europe Program 2014–2020: A window for Euro–Asian cooperation and collaboration"
In a globalized world, Europe and Asia are currently redefining their artistic and cultural relations. In this framework, we need to create the conditions for sustainable cooperation and collaboration between Asian and European actors. Such cooperation and collaboration, besides an only market driven approach, needs to be based on fairness, long-term perspectives and societal issues. The upcoming "Creative Europe Program 2014–2020" of the European Union could be an interesting tool to support the multiple and multilateral dialogue among professionals worldwide. This workshop is meant to introduce the program and to open up the discussions between actors wishing to be involved in the future Euro–Asia cooperation and collaboration.
Organized by: Relais Culture Europe**
Presenters: Pascal Brunet (Director, Relais Culture Europe), Laurence Barone (Political Analyst, Relais Culture Europe)
---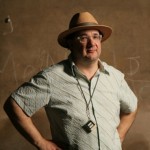 Pierre Sauvageot
During the 1970s, he joined the Théâtre de l'Aquarium, les Maclomas and participated in the free-jazz movement of his trumpet teacher Bernard Vitet. In 1983 his Faux-Vent, an octophonic concert for sounds in movement, was presented at the invitation of the newly created Lieux publics. He joined Michel Risse in 1985 to found Décor sonore, which has been the basis for numerous creations. He was appointed director of Lieux publics in 2001, but always pursues his creations, giving a personal trademark to the projects of the national center.
---
Agnès Henry
Agnès Henry is the director of Extrapole, a performing arts organization which provides a range of skills articulated around artistic development processes and intercultural cooperation. Strongly engaged in European cooperation, she has been developing a cooperative platform in Asia, i.e. Japan, South-Korea, Taiwan, and Australia.
---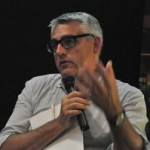 Pascal Brunet
Pascal Brunet is the director of Relais Culture Europe. He held various appointments / posts in the field of performing arts including the executive director of the Centre chorégraphique de Rennes et de Bretagne, co-director of Isadora (a project of choreographic development) and secretary general of the Groupe de musique expérimentale de Bourges. Involved for several years in the European and international cultural cooperation, he is a founder member of DBM, the Euro–Mediterranean cooperation network.
---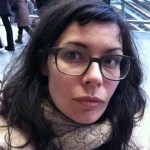 Laurence Barone
Laurence Barone is working in Relais Culture Europe since 2005. She is in charge of political analysis in a European and cultural perspectives. She is working on different type of projects (training, publication, debates, cooperation) with a wide range of actors (professionals, public authorities, networks, etc.).
---
*Lieux publics is the project leader of IN SITU, the European network for artistic creation in public space, with the support of the European Commission. With its nineteen partners from fourteen countries, IN SITU forms a platform of artists and organizers united by the desire to create a European public space.
**Financed by the French Ministry of Culture and Communication, the European Commission and the French Ministry of Foreign Affairs, the Relais Culture Europe is dedicated to support the cooperation between French and European cultural and creative professionals. It plays the role of intermediary, in partnership with other actors such as TPAM, for the development of platform of dialogue and network between European and Asian professionals, not on a national and discipline basis, but on a transnational and interdisciplinary one.
---
Dialogue with the Director Norimizu Ameya
Drama related to "life" — from works created in Kunisaki Peninsula (Oita Prefecture) and Iwaki (Fukushima Prefecture)
---
Feb 15 (Fri) 14:00–16:00
BankART Studio NYK 2F
With Japanese–English interpretation
I got the opportunities to experience Mr. Norimizu Ameya's overwhelming works twice in a few months. I worked as programme director for one, and watched the other as one of the audience members. They were site-specific works performed by the local people in which their hometown itself became the stage. In these Ameya works, the intention of artists and performers as well as expectation (whether positive or negative) of the audience can easily be let down by the stage set called 'nature'. The relationship between a director, performers, stage and audience is always fluid, and the boundary between direction and accident becomes extremely vague. As people who are actually living in the area appear in these works, they associate you with the real life and fiction, and gradually involve you as a part of the works.
The two works we will talk about are Irikuchidekuchi (November 2012, Kunisaki Art Project 2012 Autumn) and Blue Sheet (January 2013, Iwaki Sogo High School Studio Performance). The former was located in Kunisaki where its land has a radial shape with a diameter of 30km. It is a 12-hour long bus-touring piece created with children who live in the local area with ongoing issues of depopulation and ageing of population, based on the scenery with the history of Sacred Mountains since 1300 years ago and the existence of thousands of temples and shrines as well as the landscape of agriculture. The latter, Blue Sheet, was performed on the ground of Iwaki Sogo High School where it still remains damaged by the earthquake and tsunami and is located within 43km of Fukushima Daiichi Nuclear Power Plant. It represents the lives of the students who were born right before/after the Great Hanshin Earthquake and took the entrance exam of the High School on the day before the Great East Japan Earthquake. Both works has some beautiful and touching aspects but reveals the sad reality at the same time. This talk aims to get to the core of Mr. Norimizu Ameya's creation that has expressed 'life' of animals and human beings with various approaches. (Akane Nakamura)
Speakers: Norimizu Ameya (Director), Akane Nakamura (Producer / Executive Producer, precog Co., Ltd. / Executive Board, NPO Drifters International
---
Norimizu Ameya
Born in 1961, Norimizu joined in Jokyo Gekijo Theatre Company led by Juro Kara as a sound technician at the age of 17. He became independent as a director at the age of 23. Since then he has broadened his sphere of activity to arts and music, but the centre of his concern has always been the life of human beings. After participation in the Venice Biennale in 1995, he started a pet shop 'Dobutsudo' and has been involved in breeding of animals. In recent years, he participated in "Vanishing Point" exhibition (2005), directed Tenkosei written by Oriza Hirata (2008), joined in Festival/Tokyo consecutively, collaborated with Yoshihide Otomo and Fuyuki Yamakawa, and played with Tenniscoats and Tavito Nanao.
---
Akane Nakamura See here for profile
---
Spaces that Reflect "the World" through "Art" — Activities of Unique Museums and Art Centers
---
Feb 17 (Sun) 13:30–15:30
BankART Studio NYK 2F
With Japanese–English interpretation
*TPAM Pass not required
Museums, theaters, and art centers that connect them ― to introduce art beyond genres is also to try to transcend temporal and spatial boundaries. Maruki Gallery For The Hiroshima Panels, which exhibits works by Mrs. and Mr. Maruki who explored the "landscape" after the atomic bombing, connects what happened 68 years ago and the present. Nam June Paik Art Center, which exhibits the artist's works that fuse the present and history as well as technology and human, has been organizing special exhibitions that represent Paik's spirit. Also inviting three curators from art centers in Mexico City, Jakarta and Moscow, this session introduces what is happening in art centers in the world where vibrant fusion is anticipated after all the confusion.
Speakers: Yukinori Okamura (Curator, Maruki Gallery for the Hiroshima Panels), Chaeyoung Lee (Curator, Nam June Paik Art Center), Anna Belyaeva (Curator of Media Section, Platforma), Mariana Arteaga (Program Advisor, Centro de Cultura Digital), Dewi Noviami (Program Director, Dewan Kesenian Jakarta)
---
Yukinori Okamura
Majored in comparative art and design studies at Tokyo Zokei University. Curator at the Maruki Gallery for the Hiroshima Panels in Saitama prefecture since 2001. Among his projects in recent years is "LEVEL 7 feat. Hiroshima !!!!" by Chim↑Pom (December 2011).
---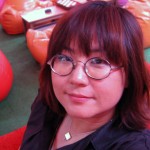 Chaeyoung Lee
In charge of exhibitions and performance programs at Nam June Paik Art Center, located in a suburb of Seoul. In 2012, she carried out an exhibition "x_sound: John Cage, Nam June Paik and After" in collaboration with two other curators, and received the grand prize in the exhibition section of the 17th Wolganmisool Award.
---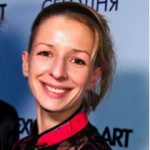 Anna Belyaeva
Curator of the media section of Platforma, a project in Moscow that multilaterally creates and introduces contemporary theatre, dance, music and media arts. Its unique activities include international artist-in-residence programs that organically uses a space renovated from a gigantic storage.
---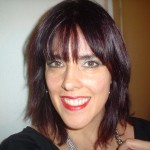 Mariana Arteaga
Dance Curator, Coordinator, Producer. After curating and directing art festivals, she is currently the program advisor of Centro de Cultura Digital in Mexico City. She also has experiences as dancer / choreographer.
---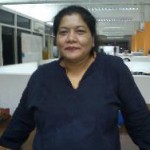 Dewi Noviami
After working as manager at Goethe-Institut Jakarta, she has been the program director of the Jakarta Arts Council (Dewan Kesenian Jakarta / DKJ), which manages the art center Taman Ismail Marzuki (TIM), since 2010.