Girl X (Japan-Thailand Collaboration Ver.)

• Presenter ¥1,500
• Audience ¥2,500
※ Registration / Ticket
Premiered in 2013. With images and texts projected in a living-room scale, the play reflects the atmosphere of Japanese society after the Great Earthquake of Eastern Japan. After last February at TPAM, the play not only toured Malaysia and Thailand, but also was produced in collaboration with artists from other countries in Asia. The process to establish a collaborative relationship with other Asian countries has been very fast and smooth. This time, we present the version that has been jointly produced with Thailand. This production is planned to be presented in Thailand in May 2015.
Original script: Suguru Yamamoto (HANCHU-YUEI)
Direction: Thanapol Virulhakul (Democrazy Theatre), Suguru Yamamoto (HANCHU-YUEI)
Performers: Teerawat Mulvilai (B-floor Theatre), Peerapol Kijreunpiromsuk
English Translation of the Original Script: Yui Terada
Interpreter: Siree Riewpaiboon, Kaho Suzuki, Yuichi Kondo, Nao Suzuki
Stage manager: Risa Fuzie
Sound Design: Kamonpat Pimsarn
Costume Design: Nicha Puranasamriddhi
Lighting Design: Pavinee Samakkabutr
Producer: Momo Sakamoto (HANCHU-YUEI), Pavinee Samakkabutr (Democrazy Theatre)
Democrazy, managed by a group of artists who are passionate in arts, is an alternative art space for all who love and are interested in theatre arts, performing arts, fine arts, movies, music, books, stories, people, and lives. It was founded in 2008, located in the heart of Bangkok, and houses approximately 8-10 productions per year.
Democrazy also produces its own works so it is not only an art space but also a permanent group of collaborating theatre artists aiming to make professional theatre known to general public; to encourage and support artists to produce their works constantly; and introduce and support talented young artists to make their debuts. In 2015, three of their produced work ("Hipster the King", "I'm Thai" and "Virginian") will be invited to Ludwigshafen Festival in Germany.
He is artist, choreographer, director, dancer and co-artistic director of Democrazy Studio.
After graduating from Thammasat University with a Bachelor of Film and Photography, he began to pursue his passion for Dance and Performing Arts and study dance extensively including research of Butoh under Tetsuro Fukuhara in Tokyo in 2007. He has joined numerous international productions/research such as Korean-ASEAN fellowship program (2005), Tokyo Space Dance Company (2007) and Modern Dance Program organized by the John F. Kennedy Center for the Performing Arts (2010) as a dancer and a director.
He has continually created subversive dance performances to investigate his interests in the function and conceptualization of Dance Art in our contemporary society.
He received best direction performance award form IACT (International Association of Critics Thailand) for "TRANSACTION" in 2013. His contemporary dance piece "Hipster The King" to scrutinize the cult of personality will be invited to Ludwigshafen Festival in Germany in 2015.
HANCHU-YUEI is a theatre company based in Tokyo, founded in 2007. All the productions are written and directed by Suguru Yamamoto. His work is highly critical by dealing with the boundary between the reality and the story, and questions the boundary itself. He humorously treats the opposite extremes such as reality and fiction, drama and story within a story, the virtual and the real, or love and hatred. Recently his unique way of directing "life" or "existence", that is, combining projected letters or diagrams that is two-dimensional and actors who are three-dimensional, is called "2.5 dimensional theatre". He received both Best Original Script and Best Play in Bangkok Theatre Festival 2014 for Girl X.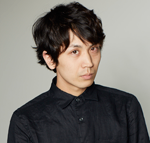 He is writer, director and the founder of HANCHU-YUEI. He was born in 1987 in Yamanashi prefecture. He started solo-project series "Document" which try to create a work from an actor's real life story.
He combines projected letters and colors that are two-dimensional and actors who are three-dimensional, which is called "2.5 dimensional theatre", and has been invited abroad and artist in residence programs.