PANCAKE
Feb 9 (Sat) 19:00 | 10 (Sun) 19:00
ZOU-NO-HANA Terrace
Adv ¥3,200 | Door ¥3,500
TPAM Pass benefit⇒¥2,500
---
These artists' creations are formally different, but beyond the styles they somehow intersect and take the same direction in their survival in the contemporary world. The four artists / companies have respectively encountered in Roppongi Hills' 5th anniversary event "gene," Theatre Tram, "Hors Pistes Tokyo" organized by Centre Pompidou, and music videos. We expect this event will demonstrate their new impulses and unusual "daily life and encounter" by an unknown detonating agent.
---
Organized and produced by: LUFTZUG
Cooperation: ZOU-NO-HANA Terrace, WHITELIGHT, DOTWORKS, Prism co., ltd.
Contact: LUFTZUG 03-5767-5400 (10:00–19:00) ✉
Official website
---
crewimburnny
A dance company led by Nagisa Sugao. Formed in 2005 selecting exquisite girls: not only dancers but also actresses from independent theatre. They approach the movements of female bodies from the two poles — boys' bewitched point of view and girls' lovely point of view — to create pop depiction of dreams, realities and nothingness that exist at the intersection of the two vectors that eternally deviate from each other. The crewim world instantly enchants audience and has been spreading addiction♡♡♡
---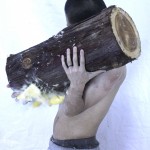 contact Gonzo
Formed in 2006. "contact Gonzo" is the name of the group and at the same time of their methodology, i.e., a lo-fi spark. They advocate "philosophy of pain, technique of contact" in a clouded consciousness, and build a unique and pastoral theory of the sublime; in other words, they hit each other or roll down slope. In the course of this effort, destroying cameras in forests, they invented "the first man narrative," a method for getting closest to themselves, and shot countless photos with instant cameras. They have recently been developing "slow tank" and "mountain surfing."
---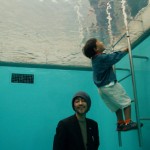 Takeru Amano
Painter / sculptor. Born in Tokyo in 1977. White and black, man and woman. Strong and delicate lines. Co-existence of the opposite. He moved to the U.S. in 1997, studied silk screen print and lithography, and set his base in Japan in 2000. He has been creating and designing in various fields and also VJing. The artistic attitude in his exploration of new forms, based on painting and sculpture, has been drawing attention across genres.
---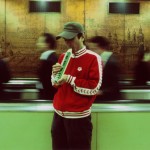 Shoji Ikenaga
The central figure of the lyrical dub unit "Arakajime kimerareta koibito tachi e." Track maker and composer. Having released six albums including the latest Kyo, he has regularly been appearing in large-scale festivals such as Fuji Rock Festival, Rising Sun Rock Festival or Asagiri Jam. The visual sense in his music has been highly praised, and he has also been working on film music, music for theatre as well as producing and remixing other bands' works.