Dance Connection
Feb 15 (Fri) 19:00 | 16 (Sat) 19:00
*A post-performance talk follows on 15th
Guest speaker: Takao Norikoshi (Novelist / Dance Critic)
ZOU-NO-HANA Terrace
Adv ¥2,000 | Door ¥2,500 | Student Adv ¥1,500 | Student Door ¥2,000
TPAM Pass benefit⇒¥1,500
---
"Yokohama Dance Collection" and "Seoul Dance Collection" — the two dance collections selected Japanese and Korean emerging choreographers to have them meet for the first time and work on a co-creation through a two-month residence in Seoul and Yokohama. Exchanging with another choreographer from a different background, understanding and studying the differences, learning from each other and with new points of view, they have presented a piece called Face to Face in Seoul and have been working toward this performance in Yokohama.
---
Organized by: Yokohama Red Brick Warehouse Number 1 (Yokohama Arts Foundation)
Co-organized by: Seoul Performing Arts Festival, Hachinohe City, Performing Arts Meeting in Yokohama 2013 Executive Committee
Contact: Yokohama Red Brick Warehouse Number 1 045-211-1515
Official website
---
Yuriko Suzuki (an awardee of Yokohama Dance Collection EX)
Born in Gunma. Studied under Kuniko Kisanuki. After graduating from the Western dance course at Nihon University, College of Art, she trained at Salzburg Experimental Academy of Dance (SEAD), where she took part in BODHI project and works by Matej Kejžar (Rosas) as well as Maya Lipsker and created a duo piece BORN/2011. The piece was presented in five countries in Europe, and won the 2011 Best Choreographic Direction at ACT Festival in Spain. Awardee of the Jury Prize at Yokohama Dance Collection EX 2012, and a finalist at Toyota Choreography Award 2012. She was invited to CONTACT 2012 (Singapore) in December 2012.
---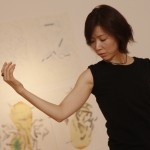 Hwang Soo Hyun (selected choreographer of Seoul Dance Collection)
She received a Young Art Frontier Grant from Arts Council Korea in 2008. Her work Timing was nominated for the final selection at Global Dance Contest, sponsored by Sadler's Wells. In 2010, she and Lim Jeeae were invited to Seoul International Dance Festival in 2010 with On the Sound. In 2011, she formed a Co-lab Project Group and created Co-lab: Seoul–Berlin, which was selected for the Rising Star program organized by HanPac (Hankuk Performing Arts Center) and was presented in Festival/Tokyo in 2012.