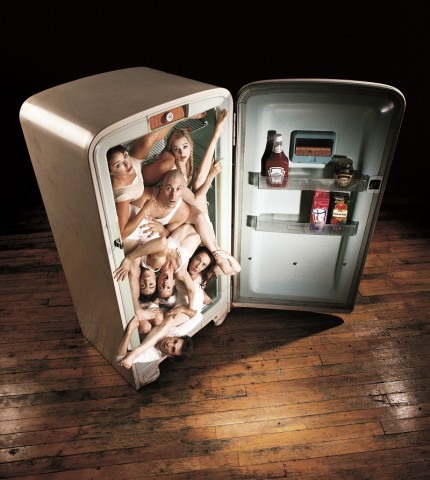 LOFT
Feb 7 (Thu) 19:00 | 8 (Fri) 19:00 | 9 (Sat) 13:00/17:00 | 10 (Sun) 13:00
Kanagawa Arts Theatre, Hall
S ¥7,000 | A ¥5,000
TPAM Pass benefit⇒10% OFF*
*9 (Sat) 13:00/17:00, 10 (Sun) 13:00 only
---
The action unfolds in a loft, as seven close friends employ every object at their disposal — apples, shoes, bathtubs, flashlights, knives, lampshades, Barbie dolls — to entertain themselves in the monotony of their daily lives. The eclectic score orchestrates the various mood changes, from swing to rap to techno to tango, and occasionally the members of the cast explore their own musical talents live on stage. Soaring, somersaulting, contorting, balancing, catapulting — there are no boundaries to their modes of expression — and in this ordinary setting the extraordinary never fails to surprise.
---
Organized by: Kanagawa Prefectural Government, Kanagawa Arts Theatre (Kanagawa Arts Foundation)
Co-organized by: tvk, TBS
Endorsed by: City of Yokohama, Kanagawa Shimbun, FM Yokohama
Cooperated by: Délégation générale du Québec à Tokyo, tvkCommunications
Contact: Kanagawa Arts Theatre 045-633-6500
Official website
---
Les 7 doigts de la main (also known as 7 Fingers)
Les 7 Doigts de la Main translates literally as "the 7 fingers of the hand." It is a twist on a French idiom ("the five fingers of the hand") used to describe distinct, individual parts moving in coordination towards one common goal. Founded in Montreal in 2002 by seven seasoned circus performers, and now with 8 touring shows, this collective has charmed audiences across the globe with their strikingly human and unprecedented multi-disciplinary approach to circus, moving their distinct parts towards common artistic goals.