Kaitaro Tsuno
Born in Fukuoka in 1938. Critic. After graduating from Waseda University, he worked as director at Black Tent Theatre Company, executive of Shobunsha publishing company, chief editor of "Quarterly: Books and Computers," professor / chief librarian at Wako University. Among his publications are Ridiculous Giant (Jiro Nitta Award), Jerome Robbins Died (Art Encouragement Prize of the Minister of Education, Culture, Sports, Science and Technology), I Don't Do What I Don't Want to Do: The Youth of Jinichi Uekusa, Don't Look Down upon Electronic Books, The Life of Yasuji Hanamori, Reading Skills for up to 100 Years Old and Reading and the Japanese.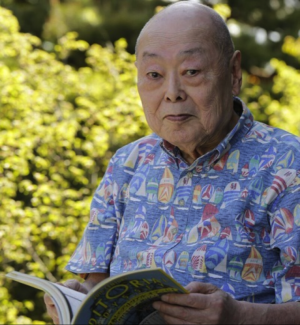 Date

2017/7/7 Fri

City

Saitama

Place

Kaitaro's house

Interviewer

Yoshiro Hatori

Born in Brussels in 1989. Director and Founder of Kenobi, and director of "The Useful Program" (Kyoto International Performing Arts Festival – Kyoto Experiment, 2013 and 2014). He produced "trying" and "teaching" which can be said to be artistic direction in an expanded sense, for a workshop «Self-Government» and ate rice with stones as a side dish in «Side-Dish Stone». He published Directions and Instructions – The However Goods in 2012.

Shuhei Hosoya

Born in 1983. Art and media researcher / filmmaker who works on art documentation through interviewing, researching and recording about artists' activities. He has also been a member of "Japanese Art Oral History Archive." After working as a guest researcher at Asia Culture Center, Gwangju, Korea, currently a board member of NOOK association inc. Among publications that he has edited and written is Media and Activeness (Impact Publication, 2012).

Katsumi Sasaki

Born in Hokkaido in 1977. Playwright. He founded a theatre company "Theatre for 6 Billion People « Autofocus" in 2001 and presented 13 works while contributing texts for other companies and directing butoh works at Tatsumi Hijikata Memorial Asbestos Kan. Since dissolving the company in 2006, he has taken part in works of Gekidan Kaitaisha and SPAC as playwright / dramaturg. In 2015, he published an anthology You Have Killed Me (editorial republica), which was introduced at Sort/Hvid (Copenhagen).

Videographer/Editor

Satoshi Nishizawa

Photographer and filmmaker. Uses cameras to record the daily lives of individuals, turning his attention to the social and economic factors that are revealed in the details. Major exhibitions include "Satoshi Nishizawa: Hardcore of Documentary" (2011, Sanagi Fine Arts, Tokyo) and "Romantic Geography" (2014, TKG+, Taipei). Main screenings include "Tuesday Classes – Satoshi Nishizawa's Hyakko (Hundred Lights)" (2013, Rikkyo University) and "Satoshi Nishizawa: Hardcore of Documentary" (2017, UPLINK).
Interviews