Akane Nakamura Direction
(Executive Producer, precog Co., Ltd. / Executive Board, NPO Drifters International)

In the present time where the relationship between artists/producers and audience/consumers has "dramatically" changed, what is the "quotidian" role that theaters should play? Can we let theaters remain being nursery pools or greenhouses that are isolated and protected from the "ecosystem/environment" called "the world"? The hunters/gatherers/cultivators that I would like to introduce in this program imagine and create their activities as a part of the ecosystem of the advanced information society, build their own environment, and have constantly been renewing it. Theaters must be able to learn a lot from their digital and wild thought and practice.
Yukako Ogura Direction
(Director, AI.HALL [Itami Culture Foundation])

An attempt to find a vision of the future of performing arts: confrontation with one's own body and strong awakening to the existence of Others outside of the theater, i.e., the world. Not the deaths and sorrows of thousands but the thought of each individual is to be depicted with a certain kind of enthusiasm and cool-headedness. I would like to introduce two solo pieces by dancers that have long kept sincere attitude toward performance and a piece by an emerging director whose steady future work is expected. The actual number of the bodies on stage would be small, but they indicate something vast.
Feb 16 (Thu) 18:30 KANAGAWA ARTS THEATRE, Large Studio
Un Yamada 'DICTEE'
"May I write words more naked than flesh, stronger than bone, more resilient than sinew, sensitive than nerve." A solo dance piece inspired by the autobiographical text by the Korean-American female artist Theresa Hak Kyung Cha, which involves diverse subjects including multiculturalism, multiple languages, women and the history of the world.

http://yamadaun.jp/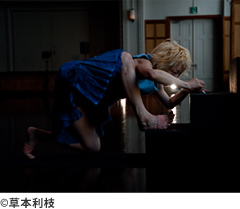 Feb 17 (Fri) 19:30 KANAGAWA ARTS THEATRE, Large Studio
Yujiro Sagami 'about angels'
Sagami is a director who works parallel in both cinema and theatre and structures the body and drama with an interactive approach. His "DRAMATHOLOGY" presented and well-received in Festival/Tokyo 10 was created through collaboration with people older than 70. He aims at the next stage in this new creation.

http://www.sagami-endo.com/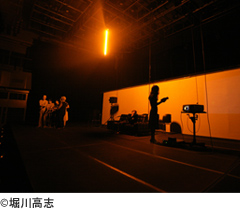 Feb 17 (Fri) 20:15 KANAGAWA ARTS THEATRE, Middle Studio
Naoka Uemura 'Fulu-oto'
Uemura has been working on collaborations and sessions with artists of various genres as well as workshops with people from diverse backgrounds. These activities for "discovery and adventure of the body" are concentrated and expressed in her solo dance. Based on improvisation, she delicately and intensely articulates time and space.

http://www.naoka.jp/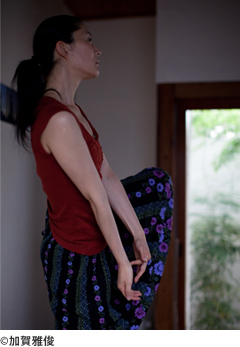 Katsuhiro Ohira Direction
(Director, ST Spot)

ST Spot has been exploring possibility of physical expression on stage and trying to materialize it. What the artists try to connect through creating events on the stage are structured on the rhythms. These three artists/groups have very different attitudes toward and distances from society, but they all work beyond categories such as "theatre," "dance" or "music" and provoke audience.
Feb 17 (Fri) 16:30, 18 (Sat) 16:30 Yokohama Red Brick Warehouse Number 1 3F Hall
mum & gypsy 'The World to Throw Salt on'
Is it really "daily life," or is it a part of "memory" that everyone has? While the parts of the stories that they assemble are always fragments and are supposed to have nothing to do with continuous "daily life," they create interactions of images and new space in the audience through making use of cinematic and musical structures. (performed in Japanese, subtitled in English)

http://mum-gypsy.com/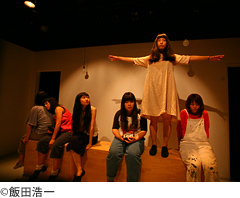 Zan Yamashita 'Yokohama Stay'
The choreographer/director Zan Yamashita does not call for emotions or techniques but develops unique methodologies and structures from day-to-day actions and thoughts. Words and dance compete and coexist in this piece, and the reality of the city of Yokohama is revealed. In this showcase, he presents the English version in collaboration with Vincent Yong (dancer) that was premiered in Singapore last year. (subtitled in Japanese)

http://www.zanyamashita.com/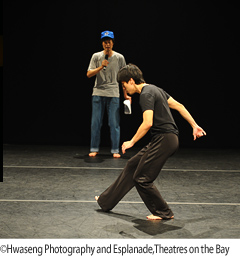 Feb 19 (Sun) 14:15 *Part 1/19:00 *Part 2 Yokohama Red Brick Warehouse Number 1 3F Hall
*The contents of the first performance and the second are different.
Masato Suzuki × Megumi Kamimura 'The Well-Tempered Clavier'
Masato Suzuki is an excellent keyboard player who plays baroque and contemporary music proposing new ways of "showing" music. The choreographer/dancer Megumi Kamimura has constantly been exploring the boundaries of dance. They try to create a new physical experience of music with the sound of a harpsichord and contemporary dance, working on J.S. Bach's "Well-Tempered Clavier."

http://eugenes.cocolog-nifty.com/
http://www.kamimuramegumi.info/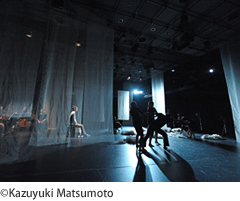 Masashi Nomura Direction
(Producer, Komaba Agora Theater)

What is the power of words? What is the power of music? What does it mean to share time and space? What is indispensable for performing arts to be...? I would like to reflect once again on these simple questions regarding performing arts, exploring what poetry, music and theatre have in common. I hope that it will be some kind of happening that could be called "time" or "gathering," generated from a focus on what "performance" is, in contrast to the current mode of performing arts, which tend to be defined as a unit by an artist's name and a title.
Feb 19 (Sun) 16:00/18:00 KANAGAWA ARTS THEATRE, Middle Studio
Shuta Hasunuma × Ryouta Yamada (TOLTA) 'Time'
Shuta Hasunuma has been exploring new relationships between the space in which music is played, the gestures of musicians, and the visual and sonic experience through live performances. Ryouta Yamada has been exploring diverse forms of poetic language beyond publication and reading. This is an attempt to reconsider performing arts from the viewpoints of the two artists, whose activities are free from the established ideas in the genres, namely "music" and "poetry," which involve both media reproduction and live performance.

http://www.shutahasunuma.com/
http://tolta.web.fc2.com/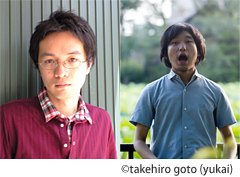 Performing Arts Meeting in Yokohama 2012 Secretariat Direction
We held "TPAMiY Summer Session" focusing on "after 3/11" in the summer of 2011. Its opening session, which was entitled "I Think What I'm Doing is Theatre," involved Ryuta Ushiro from Chim↑Pom and Kyohei Sakaguchi. We would like to present video works that Chim↑Pom created for their exhibition "REAL TIMES" (May 2011), of which themes were the accident of Fukushima Daiichi Nuclear Power Plant and the Great East Japan Earthquake, and to introduce Kyohei Sakaguchi's work in co-direction with Akane Nakamura.
Feb 16 (Thu) – 19 (Sun) 12:00–19:00
BankART Mini
*Exhibition (admission free without Pass)
Chim↑Pom
A Japanese art collective launched in 2005 by Ellie, Ryuta Ushiro, Yasutaka Hayashi, Toshinori Mizuno, Masataka Okada and Motomu Inaoka. With their works that involve such themes as "life and death" and intervene with all their strength in the contemporary society delivering strong social messages, they have drawn international attentions, participated in international exhibitions such as the Sao Paulo Art Biennial and were selected as the Japan delegate for "Asia Art Award" that was held in 2010. In March 2010, their first anthology "Chim↑Pom" was published by Kawade Shobo Shinsha.

http://chimpom.jp/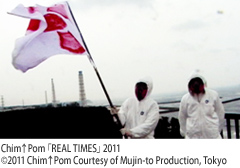 Dates and venue(s) TBA *Exhibition and talk planned
(in co-direction with Akane Nakamura)
Kyohei Sakaguchi
*See Akane Nakamura Direction.